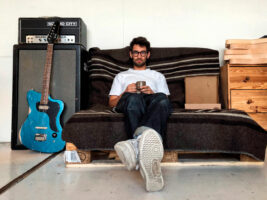 Meet Ruby Guitars: catalogue-inspired instruments with handcrafted playability
When did you become interested in playing guitar?
"My parents always used to play a lot of guitar music to me and my siblings when we were very young. We'd listen to punk and new wave records when we ate breakfast. My dad also had a weird 60s unbranded acoustic lying around. I still have it; it has a weird green pickguard which looks like mouldy bread. I first picked it up when I was six and tried to make noises which sounded nice. I probably failed, but it was enough to convince my parents to buy me my own 3/4-sized electric guitar for my seventh birthday, and I didn't really look back from there."
READ MORE: "I like the ability to flow between genres freely": Indigo De Souza embraces change on new album Any Shape You Take
What made you develop an interest in luthiery?
"One of the first things I did when I got that guitar for my birthday was play around with all the action and intonation screws! Obviously, I had no idea what I was doing, but I wanted to know what every little bit of hardware was for. I guess the first guitar I ever actually worked on with any success was my dad's 70s Kay Strat copy, when I was about 11 or 12. It was in bits when I found it in the attic, and I set about reviving it. That was what prompted me to start learning about setups and circuitry etc."
Why did you choose to emulate the designs of mid-century catalogue guitars?
"I was in garage-punk bands throughout my mid to late teens, and all my favourite guitarists at the time played Harmonys and Teiscos, Danelectros etc. It was relatively easy and cheap to get hold of old Japanese guitars on eBay in the UK, so I went through a few and just connected with them. They were a struggle to play but looked and sounded different to anything I'd used before and massaged my teenage desperation to carve an edgy niche for myself in a music scene full of Telecasters!
"I'm not sure if that worked or not, but the fondness of oddball guitars certainly stuck with me. When I decided to start making my own instruments, it seemed logical to combine the aesthetics and sounds of those guitars with more conventional playability and reliability."
You also focus on locally sourced woods and open-pore finishes…
"I think every craftsperson who uses wood has a responsibility to source materials as sustainably as possible, mainly as an environmental concern. Poplar, ash, beech, maple, and alder, all of which I use often, are readily available across Europe. A lot of people think fretboards need to be exotic hardwoods, but I usually try to push alternatives.
"Beech, for instance, stains brilliantly, and can make beautiful fretboards without the carbon footprint. If I do have to use something like ebony or Indian rosewood for a build, I'll always make sure it's from a sustainable source.
"I prefer open-pore finishes mainly as an homage to the wood! Perhaps it sounds silly, but for me, if you've spent hours shaping and refining a piece of timber, it seems weird to then grain fill it and cover it with a flat and super shiny topcoat. It's a bit clinical; I much prefer a guitar to feel tactile and organic."
When did you realise you had a viable business?
"When I started, my plan was just to make guitars to sell as stock, and I'd decide on the colours and pickups etc. However, it quickly became evident that most people wanted to include their own ideas regarding looks and sound and were happy to pay for that. After six months, all my work consisted of custom commissions, and it continues to be that way.
"I find collaborating with customers and realising their ideas within my own work very satisfying, and breeds creativity; I've created new body and headstock shapes with customers which have gone on to become standard options. I have a relatively long waiting list of builds now, all of which are different to each other, whilst remaining fundamentally 'Ruby' in concept. I think it's probably this flexible and collaborative approach which gets prospective customers to commit."
Did you have any external investment starting out?
"A little bit, yes. I was granted a small government startup loan and was lucky enough to have had some help from my family when I started out. It gave me enough to buy the tools and materials needed for my first batch of guitars."
When did you feel like you'd nailed your branding?
"I still don't think I've nailed my branding! I'm always considering tweaks to my logo and imagery; I don't think I'm ever quite happy. It became apparent early on through conversations with people that my brand concept was clear enough, even to people who weren't necessarily into guitars. I'm just a paranoid about becoming complacent!"
What's your proudest moment as a maker?
"I recently made a guitar in collaboration with artist Tim Fowler. I made the guitar, and he painted the body to make a true one-off instrument which we then auctioned. I started the project in the aftermath of the killing of George Floyd. As a white person, I've never experienced racism of any kind, and using my platform, no matter how small, was one of the things I could do to show my support for people of colour. We raised nearly £2,700 with that guitar, and every penny was donated to causes fighting racial injustice."
Where does Ruby Guitars go from here?
"There's a long way to go and it's exciting to say that I don't exactly know where. A bigger premises and fancier machines would be nice. I'd love to be able to streamline production to make things a little quicker, and perhaps take on some team members one day – it would make tea breaks more interesting! As it's grown, Ruby Guitars has evolved in ways which I didn't really predict – if I can say that I worked hard at the end of the day, I'm just happy to see where it takes me."
For more visit rubyguitars.com.
The post Meet Ruby Guitars: catalogue-inspired instruments with handcrafted playability appeared first on Guitar.com | All Things Guitar.
Source: www.guitar-bass.net