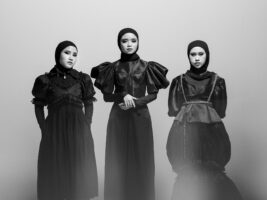 Meet Voice of Baceprot: The fearless metal trio calling for peace whilst making big noise
Voice of Baceprot have built a brand for themselves by being ferocious and raucous, yet as we video chat with Marsya (guitar and vocals) and Widi (bass), it's hard to imagine their gnarly rocking stage personas as they glimmer with a contagiously chirpy energy.
READ MORE: Five essential Nirvana tracks for guitar players
The metal trio, along with their drummer Siti, formed in 2014 at school in Singajaya, a small village outside the city of Garut, West Java. Together the pals make rage-fuelled tracks that are the epitome of musical activism, and even their own band name (pronounced bah-che-prot) is inspired by the Sundanese word for "noisy".
"We want to help in building the courage inside our listeners so that they can be who they want to be, especially women," says Marsya. "Many of them are so talented and have lots of potential but are too scared to show it. They have to know that their voice is what the world needs, it is too important to be kept under wraps."
Marsya (left) and Widi (right) of Voice of Baceprot. Image: Alex Calvin
Their debut album Retas intertwines feminism and empowerment, with calls to end war and fight the climate crisis, all whilst mixing elements of classic rock, heavy metal and even modern pop rock.
One track in particular that showcases their main message is PMS, an abbreviation of "perempuan merdeka seutuhnya", meaning "completely independent women". As young Muslim women, VOB themselves have had to overcome many obstacles and barriers such as opposition from conservative Muslims in their country, and stereotyping elsewhere due to wearing hijabs on stage as they entered a genre where improved diversity is a work in progress.
Despite what they have overcome, the band want to be recognised for their skills and talent, and not just for their religion and hijabs. And though it is their craft that has got them this far, in a scene that is often criticised for being so male-orientated and predominantly white, the addition of Voice of Baceprot to the world of rock guitar is incredibly refreshing.
Age Oriented is a personal favourite track of the band, which calls out the discrimination that came when they started out at school, but one particular song – instrumental track Kawani – is truly impressive for those with an ear for guitar, as it dives into expressive melodic noodling and parts of high neck springy bass.
"We wrote almost all of the songs on Retas back when we were still in school from around 2017 until 2018. It encapsulates the journey that we have been on for the last nine years, " she explains.
So how did it all come together? "It all began in 2014 when I found myself in the same theatre community as Widi," says Marsya. "I used to see our counselling teacher Ahba Erza sing and play guitar. I love to sing but I didn't have any friends who could play guitar to accompany me singing, so I asked him to teach me how to play. He gave me my first guitar lessons and after that I watched a lot of tutorial videos on YouTube using the WiFi at school."
At that time, the thought of becoming a metal guitarist or forming a band for activism never crossed her mind. "I didn't recognise any of the guitarists in the videos that I saw. What I did know, however, was that they were all amazing in their own way… including myself," she says with a glint of pride and a giggle.
The very same teacher was also behind Widi's venture into bass, as he taught her to play bass lines on acoustic guitar for a musical drama they were cast in: "I started learning how to play the bass on my own after the musical came to an end by checking out videos on YouTube, and from another musician who I met at a band competition.
Widi of Voice of Baceprot. Image: Alex Calvin
"After we moved to Jakarta in 2020, I was blessed with the opportunity to learn for several months from some of the finest bassists that this country has ever produced," she shares, beaming.
With a little help from Erza, it was truly fate that VOB came together. Now the trio put their skills into practice utilising a range of much more exciting gear. Marsya alternates between two guitars on stage, a Japanese Jackson Dinky Series and a Gibson SG Standard, whilst Widi currently plays a Robert Trujillo Warwick Signature bass.
Gear-wise, "the most important thing is the distortion, of course!" says Marsya. "Initially I used a Vox Bulldog Distortion but it was always noisy when on stage, and then a fan of ours, who I'm so very grateful for, gave us his POD XT Live.
"It only lasted for two years before it gave me all sorts of problems because it was too old. After that, one of Ahba Erza's friends loaned me his Line 6 Helix HX Stomp which I still use to this day. I'm planning to buy it from him, because it gives me all the songs that I need both in the studio and on stage," she concludes.
Marsya of Voice of Baceprot. Image: Alex Calvin
"I previously used a SansAmp that I bought here from one of my bass instructors," adds Widi. "It was the first bass effect that I ever tried." At the moment, she's also using a Helix HX Stomp. "I don't have that many bass effects," she adds. "But hopefully I'll get to own [something from] Darkglass [one day]."
Both Marsya and Widi have big dreams for more exciting gear that they hope they'll get to play throughout their growing career, including ideas about what their dream guitar or bass would look like.
"It's so beautiful even to just imagine it!" Enthuses Marsya. "Maybe a pointy small-bodied, black coloured guitar, equipped with humbuckers and with my name carved on the back of it so I can be like, [she gestures lifting a guitar to the air] 'Ah, this is my guitar!'"
Siti (left), Marsya (centre) and Widi (right) of Voice of Baceprot. Image: Davy Linggar
Widi weighs in, "I want a bass with a body that is proportionate in size to me. Not too big and not too heavy." But despite wanting a smaller sized model (sizing is an issue both of them have faced), Widi also dreams of a bass that's a little more in the style of Muse's Chris Wolstenholme – one with lights on the fingerboard, "with a single coil or a humbucker," she adds, not too fussy.
"Personally, I like Angus Young's Gibson," adds Marsya. "I play the same SG, which I bought from a great musician who also supports VOB. It had already been broken in the past and I frequently encountered a lot of problems with it on stage. I hope that I can have the same guitar but in better shape in the future."
The VOB girls look up to a plethora of guitar and bass greats, and have received praise from the likes of Flea of Red Hot Chili Peppers, and even Rage Against The Machine's Tom Morello.
"When your idols know you exist and you are dreaming of achieving big things like they have done, it's such an extraordinary feeling. It gives us this massive shot of energy," says Marsya in a tone which suggests she still can't believe it.
It won't be too long before they're sharing stages and running the same circuits that Morello has. Now that Retas has landed, the trio are set to embark on a US tour across eleven cities this August. "We have worked so hard for this album," states Marsya. "We hope the message and the energy from it can be heard and felt by everybody."
What lies ahead of them is indeed looking brighter than the lights on Widi's figurative future bass.
The post Meet Voice of Baceprot: The fearless metal trio calling for peace whilst making big noise appeared first on Guitar.com | All Things Guitar.
Source: www.guitar-bass.net