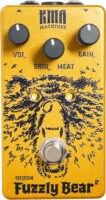 KMA Machines Launch 2023 Signature Collection Competition
KMA Machines started building pedals in 2013. This means that 2023 marks a decade of the brand, so is a special year for KMA. They already launched the limited-edition Cirrus Shadow and have a host of brand-new products being announced later in the year. However, to really celebrate ten years of bringing their fun creations to the market, they've decided to do something a little unique and very special.
Each month, from now until the end of the year KMA will be giving away custom one-off pedals in a unique and distinctive colorway, as part of KMA's 2023 Signature Collection. Every distinct pedal will be signed by KMA's founder Enrico and each will have the winner's name printed on the backplate. These special pedals will NOT be made available for purchase or sale by them – ever!
To start the ball rolling, KMA will be giving away a FUZZLY BEAR 2, the latest and greatest incarnation of the highly regarded pedal they launched the brand with in 2013. Exclusively featuring a stunning sparkle gold finish, black print and white LEDs, this one-of-a-kind pedal will be sure to grace any board with style to the lucky winner.
Founder Enrico Pruess commented "Before I started KMA, I made some custom pedals for friends and musicians that I met while I was playing on tours. The start of making effects as a real business was in late 2013 by building a 'Jordan Bosstone' clone with a bias control and a wider frequency range that I called the Fuzzly Bear, because after our mods it was capable to get skinny distortion sounds and also nice thick and meaty fuzz tones. It's nice to be able to give back to the community with this competition and I can't wait to see the reactions to some of these one-off designs, they're all very special!".
So, to take part in the promotion and be in with a chance of winning these unique pedals, participants simply need to enter via any of KMA's social media platforms*, like the relevant post, tag a friend in the comments and follow them. Entries may be made more than once, but only one tagged entry is allowed per comment and a limit of 10 entries maximum per person is possible, per giveaway. Winners will be chosen at random and the competition is available worldwide. Once entered, all participants are in with an equal chance to win this unique pedal. Remember, they will be giving away more unique custom pedals from now until the end of the year, so stay tuned to find out what the next giveaway is!
*Terms and conditions do apply – please see the relevant posts on each platform for specific rules.
www.kma-machines.com
The post KMA Machines Launch 2023 Signature Collection Competition appeared first on Music Instrument News.
Source: musicinstrumentnews.co.uk