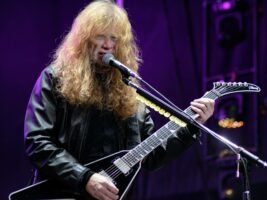 Megadeth are livestreaming upcoming Tokyo show, which may feature Marty Friedman
Megadeth have announced that they will be hosting a global livestream for their forthcoming show in Tokyo – fuelling rumours that former guitarist Marty Friedman may make an appearance.
READ MORE: "I'm kind of stepping back into the heavy now": Jason Newsted is forming a new band and returning to metal
The exclusive event was announced earlier today (7 February), and tickets are already on sale.
Named They Only Come Out At Night, the event will be available to watch globally and marks the thrash band's first time performing at the legendary Budokan in Tokyo, Japan.
Prior to the performance, which takes place 27 February, those who have access to the livestream will receive an exclusive insight into the event, with behind the scenes footage of the members exploring the city.
Over the past few weeks, hype around the concert has gradually increased, with fans speculating that it may feature a guest appearance from former Megadeth guitarist, Marty Friedman.
These rumours were first sparked following after a Megadeth fan page claimed that, in a now-deleted interview, Friedman strongly insinuated that he would be joining the band for an upcoming tour date.
The conversation took place on the Japanese radio station InterFM897. Discussing his time with the band, he stated (as reported by Blabbermouth): "I can't give details. But we'll play together … I believe it will be a magical night."
For now, Friedman's participation in the event remains speculation. If it does come to fruition, it will be his first concert with the band in over twenty years.
Material from the band's latest album, The Sick, The Dying…And The Dead! will be performed at the event, as well as their most famous hits including Sweating Bullets and Countdown To Extinction. For those unable to watch the footage live, a series of reruns will be shown over the following 48 hours.
Find tickets for the livestream and the full list of rebroadcast times on Dreamstage's website.
The post Megadeth are livestreaming upcoming Tokyo show, which may feature Marty Friedman appeared first on Guitar.com | All Things Guitar.
Source: www.guitar-bass.net