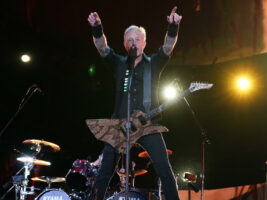 Metallica are thrash again in teaser for new 72 Seasons single
Metallica have dropped a teaser for their fourth single from upcoming album 72 Seasons.
READ MORE: Dani Filth says he's "hoping" for Cradle Of Filth's Ed Sheeran collab to be released this summer
In a new Twitter post teasing the single's release date on 30 March, the band shared a snippet of the track itself, showcasing 15 seconds of blazing old-school thrash that calls back to Metallica's early releases. The title of the track has yet to be shared, and no vocals are present in the clip that might hint towards what the title might be.
Listen to Metallica's new teaser below.
03.30.23 pic.twitter.com/eoL9wpuifN
— Metallica (@Metallica) March 27, 2023
The new track will follow the release of the singles Lux Æterna, Screaming Suicide and If Darkness Had A Son earlier this year, with the record itself set to be released on 14 May. Frontman James Hetfield has previously explained that the album's title, 72 Seasons, refers to the number of seasons we experience in the first 18 years of our lives.
"The first 18 years of our lives that form our true or false selves. The concept that we were told 'who we are' by our parents. A possible pigeonholing around what kind of personality we are," he explained, adding, "Much of our adult experience is reenactment or reaction to these childhood experiences. Prisoners of childhood or breaking free of those bondages we carry."
Metallica are set to hold a 2023/24 world tour in support of 72 Seasons, with tickets now on sale.
The post Metallica are thrash again in teaser for new 72 Seasons single appeared first on Guitar.com | All Things Guitar.
Source: www.guitar-bass.net