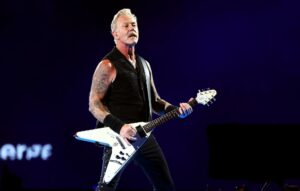 Metallica break single-show attendance record at SoFi stadium
Metallica has claimed the title for the highest single-show attendance at Los Angeles' SoFi stadium.
The metal titans drew nearly 80,000 fans to the California venue on Friday (25th August) for the first of their two M72 World Tour shows there, while the second show on Sunday (27th August) attracted a similar number, bringing more fans into the stadium on one night than Taylor Swift and the Super Bowl. Altogether, over 156,000 tickets were sold for the both shows.
READ MORE: Jason Momoa spotted moshing at Metallica and Pantera shows
The show's in-the-round stage design has arguably helped Metallica to shift more tickets, as relocating the famed Snake Pit to the centre of the stage has allowed for more space to fit punters in.
According to Billboard, Metallica's giant ring-shaped stage also includes eight towers of monitors and speakers, with each tower anchored by a raised platform that also functions as VIP seating, with eight folding chairs using  the black-and-yellow color scheme of the band's new album, 72 Seasons.
The tour launched in Amsterdam in April and is set to continue into 2024. It sees Metallica play two shows in each city, with a unique setlist each night and no repeats, as well as different support acts. Metallica's only UK stop on the tour was in June at a special 20th anniversary edition of Download Festival.
Metallica's manager Cliff Burnstein told Billboard that between 80% and 90% of fans at each concert are attending both shows.
A portion of proceeds from the shows go to the band's All Within My Hands foundation, which seeks to assist and enrich the lives of members of the communities who have supported the band by helping them to combat food insecurity. The charity also provides disaster relief and bestows scholarships.
The post Metallica break single-show attendance record at SoFi stadium appeared first on Guitar.com | All Things Guitar.
Source: www.guitar-bass.net