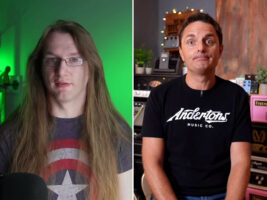 "It was never my intention to try and mislead anyone": Lee Anderton responds to Victory Amps ownership questions
Following a YouTube video by KDH, Andertons owner Lee Anderton has clarified his involvement with Victory Amps, and other brands such as Landlord effects and EastCoast Guitars.
READ MORE: Peavey denies using prison labour to build amps, calls George Lynch's allegations "slanderous"
KDH's initial video, published on Sunday (27 August) drew attention to a potential conflict of interest between the businesses Lee is involved with. Lee is one of nine business partners behind Victory amplifiers, and hasn't explicitly made this public knowledge. This is KDH's biggest criticism – he says Lee has not been up front enough about his involvement with Victory.
As he puts it, "[Andertons'] end goal is to sell you something. They're not going to be too critical of the products that they stock – that is to be expected. But what is also expected is a level of equality among the products.
"If a store is selling three different amplifiers that are in the same price range – a Marshall, an Orange and a Victory – there's no incentive to sell one over the other, because the cut they're getting, that dealer cut, is going to be roughly the same per amplifier […] but there absolutely is an incentive to sell one brand over the other if you co-own one of them."
In response to KDH's video, Lee Anderton has now posted an Instagram reel addressing some of his points – and some of the more speculative comments underneath the video.
View this post on Instagram
A post shared by Lee Anderton (@captain_anderton)
In it, he explains that it suited the founders of Victory "to use a simple trading partnership, because that type of company keeps the investors' names out of the public domain," – unlike an LLC – "because I was concerned that if I was involved, or Andertons was associated with the brand, that perhaps it would put other retailers off, especially UK based retailers off from stocking [Victory amps.]"
However, he adds: "I do accept that perhaps I could have been more open about it to the people watching our YouTube videos. When [KDH] asked me to comment […] I was happy to do so, I had no reason to lie about anything. Because I certainly don't regret making the investment that I did when Victory started. I thoroughly enjoy the contribution that I make to the team at Victory. I love talking to Martin [Kidd] about amp designs
"It was never my intention to try to mislead anyone into thinking that Victory amplifiers were anything other than what they are, which is a very fine British-built range of guitar amps and pedals."
KDH did also touch on some of the other brands Lee is involved with, including EastCoast Guitars and Landlord FX. Lee, however, clarified that these are part of a buying group, and are not exclusively owned or operated by Andertons. In short: Andertons and some other retailers – such as PMT – have teamed up, allowing them to source their in-house products from factories in bigger quantities for volume discounts.
He concludes his response by again addressing YouTube commenters, asking that people keep things respectful and polite, and "avoid getting into aggressive slanging matches."
The post "It was never my intention to try and mislead anyone": Lee Anderton responds to Victory Amps ownership questions appeared first on Guitar.com | All Things Guitar.
Source: www.guitar-bass.net