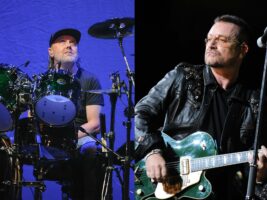 Metallica's Lars Ulrich calls U2's band dynamic "ideal" and the "pinnacle of what we all aspire to"
Metallica's Lars Ulrich has named U2 as the "ideal" band to aspire to, expressing his admiration in particular for the group's rare dynamic.
READ MORE: 6 facts about the Rolling Stones' gear you probably didn't know
Speaking to Bill Maher during a recent appearance on his Club Random podcast, the drummer said, "U2, I think if we were sitting here with a couple of guys from the Chili Peppers and a couple of guys from Muse and a couple of guys from other bands that are still getting on, we would all agree on one thing, which is that U2 is the ideal of being in a band that we all look up to because of the way they function."
"They all more or less grew up on the same street and went to the same schools," Ulrich added. "And they've all known each other and they have the same DNA running through their bodies."
He then explained that such a dynamic is hard to come by, saying "It's also not true of a lot of bands, including the one you're sitting here talking to a member of."
"I grew up in a very liberal artsy upbringing Copenhagen, Denmark. James Hetfield grew up in pretty much the opposite any of those words here in southern California in Fullerton. Do you know what I mean? Kirk Hammett grew up in the Mission district, also in a very liberal sort of post hippie upbringing."
"So I'm just saying U2 is sort of the pinnacle of what we all aspire to because of the fact that they can still function to the way that they do," Ulrich said. "But you brought up the Eagles, I mean there are more versions of the Eagles and everybody else, the Crosby Stills Nash and Youngs of the world, that just can't do this and it's easier for all of them to go and do the solo artist stuff."
He continued: "If you can get through that phase where you take turns steering, and leading that you don't mind taking a back seat and have enough trust and enough respect for your partner to know, if you lead on this song, if you lead on this record, or if you lead with this lyric, or whatever, I can hover back and then we take turns and you can balance it. You have a much higher chance of getting through it."
"It really is ego. I mean all great rock and roll bands are fronted by people with massive egos, or else you couldn't do it. So that's both a strength, what makes it a worldwide phenomena, and also what nine out of ten times makes it falter, is that those egos clash."
The post Metallica's Lars Ulrich calls U2's band dynamic "ideal" and the "pinnacle of what we all aspire to" appeared first on Guitar.com | All Things Guitar.
Source: www.guitar-bass.net