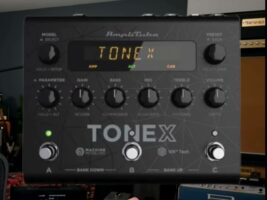 More details leaked on IK Multimedia's new TONEX hardware unit
A description of a potential TONEX pedal has been leaked online – here's everything you need to know.
READ MORE: Korg launches TR-S Power Tube Reactor and HD-S Distortion, two new build-it-yourself NuTekt pedals
IK Multimedia may be shifting from software into the Hardware market, with rumours of an upcoming pedal that combines an amp simulator and effects into a unit small enough to fit onto a pedalboard.
The leaked description of the unit was shared by the ToneJunkie TV YouTube channel yesterday (26 January).
According to the description shared in the video, the upcoming launch will be not too dissimilar from the floor-based multi-effects units offered by Kemper and Neural DSP. However, its size – as well as its rumoured price of around $500 – make its most obvious comparison Line 6's HX Stomp.
The TONEX pedal would be IK Multimedia's first guitar hardware unit – and given the name, seems set to use the same architecture as its recently-released  TONEX Max software, which we reviewed just last week. Branded as a "complete software ecosystem" built around the "powerful new AI Machine Modeling technology", the unit allowed users to model their own rig, as well as access thousands of Tone Models that came incorporated.
Using this, users could supposedly replicate the sound of any amp, pedal or cabinet, and turn it into a plugin.
Although designs such as this have been the predominant focus of the brand up until now, as ToneJunkie TV highlights, by possibly venturing into the world of hardware, IK Multimedia may be able to target a new audience. This is because, alongside being used via a laptop, a hardware unit could also be used in a live setting, without falling subject to possible laptop malfunctions.
Find out about IK Multimedia's existing products on its website.
The post More details leaked on IK Multimedia's new TONEX hardware unit appeared first on Guitar.com | All Things Guitar.
Source: www.guitar-bass.net