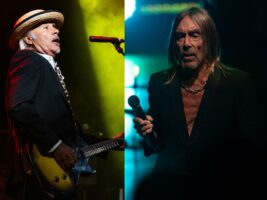 Sex Pistols bassist admits he became "fed up" with seeing Iggy Pop's penis when on tour
Sex Pistols bassist Glen Matlock has reflected on his time touring with Iggy Pop, adding that he got "fed up" with seeing the frontman's penis.
READ MORE: Gene Simmons reveals admiration for ABBA, praises them for "undeniable songwriting"
The punk musician was speaking as part of a new interview when he shared a pretty intimate memory of his time touring with the Lust For Life singer.
The two performed together for a brief period during the 1980s, when Pop was promoting his fourth studio album, Solider.
It was during this period that the frontman was prone to flash himself onstage – something which Matlock soon became desensitised to.
"The problem with flashing your willy on stage is that you have to get ready to flash your willy on stage. And he always did it in front of me!" he said when to The Times yesterday (26 January).
"I got a bit fed up with seeing it, to be honest," he added. "It's not that impressive."
Despite his experiences touring with the artist, it appears that the two still maintain a strong relationship, with Matlock set to support Pop at his upcoming performance with Blondie later this year.
Dubbed Dog Day Afternoon, the event will take place at Crystal Palace Park, located in the South-East of London, on Saturday 1 July. Tickets for the concert are available on Ticketmaster.
Earlier this month, Iggy Pop himself also provided insight into the more extreme moments of his 45-year-long career.
Reflecting on his time working with Guns 'N' Roses members Slash and Duff McKagan for his 1990 album, Brick By Brick, the frontman explained how the three would often have pretty eccentric meetings before working on the music.
"Before we set to work they said: 'We'll have to have a discussion before we start. So they arrived with a gallon of vodka and a bowl of blow," he told Classic Rock magazine. "As a result of living through that, I got to know them pretty well."
The post Sex Pistols bassist admits he became "fed up" with seeing Iggy Pop's penis when on tour appeared first on Guitar.com | All Things Guitar.
Source: www.guitar-bass.net