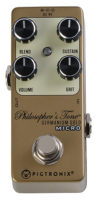 More fuzz from JHS
New fuzz and distortion pedals are coming along like buses and not to be outdone JHS has announced two this week: the Billionaire Cash Cow from Danelectro and the the Philosopher's Tone Germanium Gold Micro.
According to JHS, the Billionaire Cash Cow Overdrive mimics that elusive 'clean but dirty' power tube distortion that erupted at the end of the '70s: '…packing all the punch of a 100 Watt amplifier stack into a pedalboard-friendly package'. JHS goes on to say: 'Wind up the dial and bring up the bass and you can almost feel the air moving; the Cash Cow delivers that searing, mythical Brown sound, even at bedroom levels'.
Designed to minimise pedalboard space, the all-metal, true bypass Cash Cow features top-mounted jacks with power coming courtesy of a standard 9v DC barrel.
The Philosopher's Tone Germanium Gold Micro takes the original PT optical sustain engine and allows the user to mix in a layer of germanium-enhanced distortion. The unique diode arrangement found in the pedal delivers a smooth top end and rich midrange response, JHS says, tailored to match the characteristics of the optical sustainer driving it.
Setting the Germanium Gold version apart from its predecessors, the GRIT control acts as a blend for the on-board germanium-enhanced distortion. More than a simple gain control, clean and overdriven tones can be blended to perfection with a single turn of the dial.
The stompbox features true-bypass switching and power comes courtesy of the standard 9VDC input. 'An internal voltage-doubling circuit provides the superior headroom, clarity and output of 18VDC power rails'.
Info: www.jhs.co.uk/pigtronix-germanium-gold-compressor-micro and www.jhs.co.uk/brands/danelectro/billionaire-effects
The post More fuzz from JHS appeared first on Music Instrument News.
Source: musicinstrumentnews.co.uk