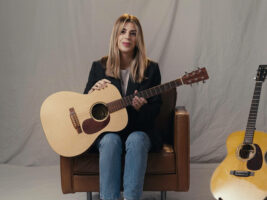 My Guitar Story: Brooke Fraser on why her first Martin is so important to her
Grammy-winning singer, songwriter, and guitarist Brooke Ligertwood (more widely known by her maiden and performing name Brooke Fraser) wasn't always a guitar player. The Something In The Water singer started out writing songs on a piano. She only graduated to guitar when a family friend loaned her a nylon-string acoustic, but it's safe to say she was going in cold.
"I didn't even know how to tune it myself," she explains. "So I would take it back to him on the weekends and he would tune it and give it back to me!" There was something about that guitar she didn't even know how to keep in tune that spoke to her however, and before long she was writing songs on the instrument.
She still didn't have a guitar of her own, however – but all that would change thanks to a remarkable gift from another friend who saw Brooke's potential and decided to do something about it.
"My friend Leah… was a wonderful songwriter, and she was saving up to buy a Martin, a 000-XM Auditorium," she recalls. "Then one day we meet up and she unexpectedly has this guitar with her, and she hands it to me. And with moisture in her eyes she explains that even though she thought that she was buying the guitar for her, she was supposed to give it to me. And so this was my first guitar."
Brooke would take this incredible gift and put it to good use. She'd play the Martin "to death", using it to write and record her first album. This kicked off a lifetime love affair with Martin guitars that culminated in the 000-28 Brooke Ligertwood – a signature model produced with all the care and attention you'd expect from the artisans at Martin's Nazareth, PA home, but with a through-line back to that original 000 that Leah handed to her all those years ago.
Watch the full video above to find out more about Brooke's guitar story, and her love affair with Martin guitars.
To find out more about Martin's signature artists, check out the latest issue of Martin: The Journal Of Acoustic Guitars.
The post My Guitar Story: Brooke Fraser on why her first Martin is so important to her appeared first on Guitar.com | All Things Guitar.
Source: www.guitar-bass.net