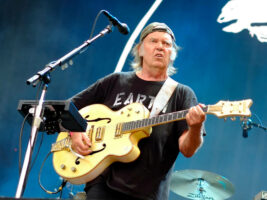 Neil Young explains how a flip phone was vital to writing new album World Record
The birth of Neil Young's latest album World Record would not have happened if not for… you guessed it — the flip phone he carries around on his walks.
READ MORE: Watch: David Ellefson teams up with Megadeth tribute band for a New Year's Eve jam
In the new February issue of Uncut magazine, Young reflects on the making of his recent 42nd studio album and the one — rather unexpected — device that was instrumental to its creation.
"I was walking in the forest a lot," Young said, referring to his days hiking through the Rocky Mountains in the winter of 2021-2022. "Walking in the snow, in the Rockies. I would always be whistling as I walked along. I eventually realised that every day I was whistling a different song."
"I started recording the whistling as I walked. On this flip phone, same one I'm talking to you on now."
Interestingly enough, inspiration didn't always strike Young in the form of wordless tunes. Those daily hikes near his Colorado home also birthed the line the world is in trouble now, lyrics from a World Record track of the same name.
Eventually, after recording eight or nine of those partial-tracks on his flip phone, Young transferred them to his computer, leaving those ideas to sit in the drive until the day the itch to record struck him again.
"I was thinking, 'Well, I wouldn't mind trying to make another record,'" Young said. "I feel like doing it, it'd be nice to see the guys and play some music. But I didn't really have many songs. Then I remembered I'd whistled all these songs into my phone, so I got the computer out and started adding words."
The seasoned songwriter added that the process did not take long, as the songs "just came out really quickly": "Within a period of about two days, I wrote all the lyrics. I never changed a word," he said.
The post Neil Young explains how a flip phone was vital to writing new album World Record appeared first on Guitar.com | All Things Guitar.
Source: www.guitar-bass.net