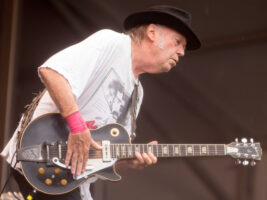 Neil Young says "touring is broken" and it's thanks to Ticketmaster
Neil Young has called the state of touring "broken" due to the high ticket prices and fees created by Ticketmaster.
READ MORE: Jason Bonham says he found unmarked tapes in John Bonham's belongings
In a post on his website Neil Young Archives titled "Concert Touring Is Broken," Young declared, "It's over. The old days are gone," adding that he gets letters from fans blaming him for $3,000 tickets to a benefit he was a part of.
"That money does not go to me or the benefit. Artists have to worry about ripped off fans blaming them for Ticketmaster add-ons and scalpers. Concert tours are no longer fun. Concert tours not what they were," he continued.
The post continues by featuring an article by Quartz writer Ananya Bhattacharya chronicling the recent debacle over ticket prices for The Cure's US tour, which saw Ticketmaster charging fees that were higher than the face value of the tickets. The Cure had opted to keep ticket prices as low as possible for the tour, with fans praising prices that were often as low as $20.
However, as the article demonstrated, the price of four $20 tickets could rise to even $179, due to additional fees. On 15 March, Cure frontman Robert Smith tweeted in response to fan outcry: "I am as sickened as you all are by today's Ticketmaster 'fees' debacle."
"To be very clear: The artist has no way to limit them. I have been asking how they are justified. If I get anything coherent by way of an answer I will let you all know."
I AM AS SICKENED AS YOU ALL ARE BY TODAY'S TICKETMASTER 'FEES' DEBACLE. TO BE VERY CLEAR: THE ARTIST HAS NO WAY TO LIMIT THEM. I HAVE BEEN ASKING HOW THEY ARE JUSTIFIED. IF I GET ANYTHING COHERENT BY WAY OF AN ANSWER I WILL LET YOU ALL KNOW. X
— ROBERT SMITH (@RobertSmith) March 16, 2023
The following day, Smith tweeted that Ticketmaster had agreed that the fees were "unduly high", revealing that the ticketing giant had offered a $10 per ticket refund to all verified fan accounts for lowest ticket price transactions and a $5 per ticket refund to all verified fan accounts for all other ticket price transactions, for all tickets sold for all dates on the tour.
The post Neil Young says "touring is broken" and it's thanks to Ticketmaster appeared first on Guitar.com | All Things Guitar.
Source: www.guitar-bass.net