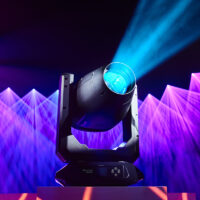 Cameo presents the OTOS SP6 and OTOS B5 – New IP65 Moving Heads from the OTOS Series
Cameo has expanded its OTOS Series. After the OTOS H5 IP65 Beam-Spot-Wash Hybrid Moving Head already impressively proved in 2022 that the demand for IP65-capable, light-intensive and lighter moving heads is growing, the German manufacturer is now expanding its portfolio with the specialist OTOS SP6 (Spot Profile) and OTOS B5 (Beam) models. These two IP65 moving heads are aimed at lighting designers and rental companies looking for tools for outdoor use, and they mark the spearhead of technological development at Cameo.
TAKE IT ON YOUR NEXT RIDE(R)
With the claim of the OTOS Series, Cameo sets the direction: if you don't want to do without powerful beams, spots and washes even in heavy wind and weather, you need reliable and proven partners at your side. Whether it's hybrid all-rounder or specialist – the IP65 moving heads of the OTOS Series impress lighting professionals with their powerful output, high robustness and flexibility, as well as a particularly low weight.
RIDE CREATIVE: OTOS SP6
The OTOS SP6 is an IP65 spot profile moving head with a 600W LED light source and an illuminance of 75,800 lx at a beam angle of 7°. The optical system – with a 130 mm front lens – offers an impressively wide zoom range, from 7° to 50°, and ensures precise lighting results without visible hotspots. With its IP65-rated housing, the OTOS SP6 is an extremely versatile tool for outdoor use that can be used to reliably achieve all lighting ideas, even under adverse conditions – on live stages, at outdoor events, and also in the theatre and TV sectors.
In addition to the precise illumination of people and objects, the OTOS SP6 can also be used creatively and flexibly. For this purpose, two gobo wheels, a 5-facet prism and an integrated 4-fold iris slider system with individual angulation and +/- 45° rotation are available. Two frost filters (light and heavy) and an infinitely variable iris diaphragm round off the wide range of possibilities. The OTOS SP6 works with CMY colour mixing and includes an additional colour wheel with six dichroic filters + open for particularly saturated, powerful colours. The linear CTO correction allows for infinitely variable adjustment of the colour temperature in the range from 2,600 K to 7,000 K. Thanks to the adjustable PWM frequency (650 Hz-25 kHz), the OTOS SP6 is also suitable for flicker-free use with film and TV cameras.
Control is flexible via DMX, RDM, Art-Net, sACN, W-DMX and CRMX. When it comes to handling before, during and after production, the OTOS SP6 scores with its intelligently placed handles and an exceptionally low weight (34 kg) – as with all moving heads in the OTOS Series – which makes the OTOS SP6 the lightest representative in its performance class.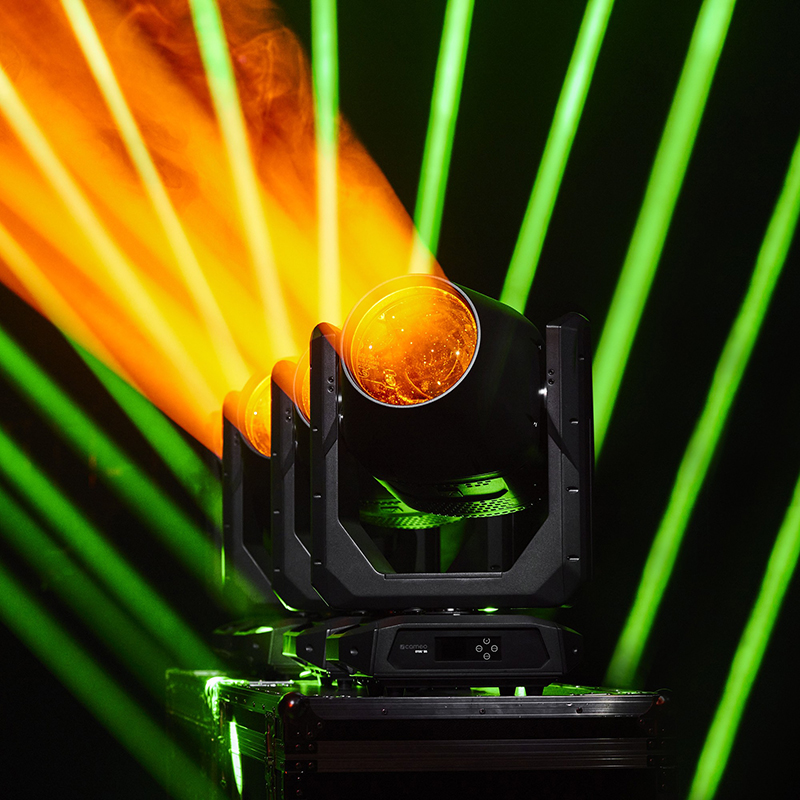 RIDE FAR: OTOS B5
The OTOS B5 is an IP65 beam moving head based on a 480-watt discharge lamp. It delivers an illuminance of 511,000 lx @ 15m. With its high-quality optical system – with 205 mm front lens – the OTOS B5 produces impressively precise 1° beams that prevail even in dense lighting designs and remain visible even from a greater distance.
Thanks to the IP65-rated housing, the OTOS B5 is particularly convincing under adverse conditions – whether it's in continuous rain or in dusty environments. At the same time, the 480 W custom discharge lamp of the beam moving head ensures maximum reliability and profitability in long-term use. The service life of the lamp is 3,000 hours and has been tested in continuous use under live conditions.
The effects section of the OTOS B5 includes a static gobo wheel with 19 gobos + open, as well as three rotating and indexable prisms on two levels to create a variety of mid-air effects and add depth to lighting designs. In terms of colour, users can also draw from the full range of shades, thanks to the integrated CMY colour mixing and the additional colour wheel with 14 dichroic filters for particularly saturated colours.
The OTOS B5 is identical in construction to the OTOS H5 except for the front lens. Thanks to the identical dimensions, both models can be stored and transported in the same flight case. With a weight of only 33 kg, the OTOS B5 is also one of the lightest representatives in its performance class.
The Cameo OTOS B5 and OTOS SP6 can already be pre-ordered. Delivery is scheduled for mid-April.
cameo
The post Cameo presents the OTOS SP6 and OTOS B5 – New IP65 Moving Heads from the OTOS Series appeared first on Music Instrument News.
Source: musicinstrumentnews.co.uk