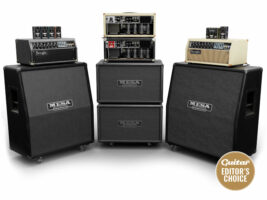 Neural DSP Mesa Boogie Mark IIC+ Suite Review: Boogie tones for the masses
If you're used to tube amps, the world of modelling plugins can seem intimidatingly abstract, what with the brandless amp heads floating around in a digital abyss. Luckily, that's where Neural DSP's amp suites come in, zapping real amps into the digital realm exactly like the movie Tron. The latest entry is a recreation of Mesa Boogie's Mark IIC+ and Mark IIC++ heads – plus a bunch of cabinets, effects and microphones. Will it be enough to get you to ditch those real amps?
READ MORE: The Big Review: Universal Audio Galaxy, Del-Verb & Max – the most desirable UA effects pedals yet?
The first thing to greet you upon opening the Neural DSP Mesa Boogie Mark IIC+ Suite is a pleasing 3D render of a Mesa Boogie head. Looks aren't everything, especially when it's not a physical object we're talking about – but, hey, it's a reassuring start to things. There's a lot of nice touches in the recreation too: some dings in the tolex, scratches on the transformer and marker pen scribbles on the rear panel. Not going to add to the sound, no, but it's a nice way of pulling these amps down out of that digitised void and making them feel like something you can actually play.
Once you've got your audio set up (we're using the old reliable Focusrite 2i2 to accept our guitar input), you can get to knob-tweaking straight away, or head over to the other sections to adjust various stompbox effects, a master EQ or cabinet mic placement. The master control panel follows you across all of these different views, which lets you quickly tweak things like input/output levels, pitch-shifting, a noise gate, a doubler, and save and load presets. Usability is intuitive across all of this: other than the self-explanatory utility options, the controls are virtual knobs and switches that behave as you would expect hardware too.
So the interface looks great and is easy to navigate – but that's all for naught if the sounds are sub-par. But, this is Neural DSP we're talking about: the sounds are predictably great. All the factory and artist presets are there if you want a jumping-off point, but the real joy here is building up a tone by yourself as you might if you had a real amp at your disposal. This is one of the most versatile Neural DSP plugins, if only for how famously versatile the amps in question are. The wide selection of pedal effects helps too, of course, but there's a reason the Mark IIC+ is known for being used by both Prince and Metallica: The gain range is massive, and the graphic EQ lets you push certain frequencies hard, cut down on unruly resonances or slice out that midrange if you really love Kill 'Em All.
The amp simulation is only part of the picture, as the interaction between a cabinet, a microphone and a room makes up a huge part of any recorded guitar sound. Neural is keenly aware of this. There's a wide selection of mics ranging from bog-standard dynamics to fancy ribbons, and you have control over mic position, level and panning, and a room-sound blend for each channel. Therefore it's a breeze to dial in anything from close-mic'd metal chugs to something with a lot more width and airiness.
It's a recording nerd's dream, really – not quite as cool as having access to all the gear in real life obviously, but you can't chuck three cabs and two amp heads into a laptop bag. Particularly impressive are the room mics – they add a lot of realism to any sound, and, dialling the cabinet mics all the way back, make you feel as if you're in a real room with a real amp.
Speaking of feel – the kicker, as with all Neural DSP products, is that there really is some special sauce in the way it models amps. We're as wary of the AI hype as anyone, but the process (which we explored a while back in a chat with founder Doug Castro) has undeniably let Neural capture feel better than most other digital amp sims. A plugin is never going to recreate the full-on sensory experience that is a cranked tube amplifier shaking your whole body – we're not contesting that. But, for something composed entirely of ones and zeros, this gets impressively close.
Play for a while and you'll notice the various touches that elevate the sim from a good sounding one to a good feeling one. The most telling, and the easiest to communicate here, is the fact you can hit a chord with a saturated tone and it'll bloom into singing harmonics in a way that's really reminiscent of an edge-of-feedback amplifier. When and how this happens relies on countless micro-interactions between amp, speakers, room, guitar and strings – here it's lightning captured in a digital bottle.
Given the way in which Neural clearly can capture amplifier feel, we're a fan of how they've chosen to apply that. Dicing the plugins up into individual artists and amps might feel like a limitation compared to, say, a single suite with an overwhelming drop-down menu of amp models. But in reality you're only as limited as you would be by the actual amp in question – so here, with two famously versatile amp heads, three cabs and a bucket of mics there's not a lot it can't do. We've also not touched on the other ways you can route the plugin – loading it into a DAW, we had no problem using two instances for some truly self-indulgent wet-dry and stereo setups, and that's just scratching the surface.
So if you are drawn by the convenience of a good amp plugin, but didn't want to leave behind the experience of a real amp, this might be the best €99 you could spend. Plus, Neural's trial period is a forgiving 30 days – so why are you even still reading this? Head over to neuraldsp.com to give it a whirl.
Key Features
PRICE €99
DESCRIPTION Software-based model of two Mesa Boogie amp heads
DETAILS Three cabinets, extensive library of microphones and artist/factory presets
CONTACT neuraldsp.com
Like this? Try these:
IK Multimedia TONEX Max
Guitar Rig 6
Positive Grid BIAS Amp 2
The post Neural DSP Mesa Boogie Mark IIC+ Suite Review: Boogie tones for the masses appeared first on Guitar.com | All Things Guitar.
Source: www.guitar-bass.net