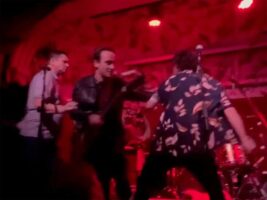 The View gig comes to an abrupt end after punch up between band
When you go see your favourite band live, you may expect a bit of banter between the bandmates. One thing you don't expect to witness, is a brawl.
READ MORE: Ed Sheeran on why he never learned to shred: "I sort of made a choice when I was younger"
This was unfortunately the case for Manchester fans of The View last week (10 May), as halfway through the gig at The Deaf Insitute, the lead singer Kyle Falconer and bassist Kieran Webster exchanged a punch.
A video of the incident was posted to Twitter. From what can be seen, it seems as if Falconer makes several lunges at Webster before being taken off the stage by other members.
You can watch the brawl below:
When you've waited for the comeback gig for years & then half way through the lead singer batters the bassist!
Rock N Roll#theview @DeafInstitute @viewofficial pic.twitter.com/AkVIy4QxoY
— The Window Co (@TheWindowCo) May 10, 2023
The band's management then took to the stage to apologise to fans who attended the Manchester show. This was before a spokesperson for the band then cancelled their next performance, which was due to be in London the next day (11 May).
"Unfortunately we are having to postpone tonight's London show," said the spokesperson on instagram.
"Our promoter is working to resolve the situation," they continued. "Please keep hold of your tickets for now & we will make a further announcement in a few days. Massive apologies to all our fans."
In the last two days, the band has since made a second statement, sharing that it was just a "brotherly bust up", and that they will continue touring from November, and will play all of their scheduled slots throughout festivals in the summer.
View this post on Instagram
A post shared by The View (@official_theview)
The View first formed in 2005 and found fame through chart topping hit Same Jeans, and platinum-selling debut album Hats Off to the Buskers in 2007. The band then split in 2017 and have since been playing comeback gigs.
The post The View gig comes to an abrupt end after punch up between band appeared first on Guitar.com | All Things Guitar.
Source: www.guitar-bass.net