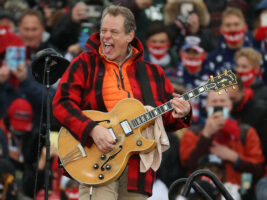 Ted Nugent declares "you can't cancel me" after cancelled Alabama concert
Ted Nugent has a message for "the lunatic fringe" who are allegedly behind his cancelled Alabama gig: You can't cancel the man — or so he claims.
READ MORE: Tim Henson says Berklee rejection got him into Polyphia "for real"
"I've gotta tell you, the concerts are selling out left and right, except where some freaks who think that men should go into women's bathrooms and locker rooms and who think that comfortably numb is a desirable condition for your children," Nugent blasted in the latest episode his Nightly Nuge show.
"They have protested. I think there were six snakes — they were serpents — that protested one of my concerts down in Birmingham, Alabama, of all places. We were selling tickets left and right. They cancelled the concert, and the Nugent haters — which is the Michael Moore, Hunter Biden fan club — they actually cancelled the concert in Birmingham, but an hour later I booked another gig for more money across the border in Mississippi. So when you mess with Uncle Ted, you lose."
Describing the cancellation of his show at the Avondale Brewery as a move by "the lunatic fringe," the rocker said, "But again, you see that smile on my face? You can't cancel me".
Nugent then went on to declare the upcoming tour as "the greatest tour of [his] life," before dismissing "all the nasty allegations" made against him over the years.
"I've never met Courtney Love. I didn't dodge the draft. I've never dissed the Native Americans. I'm not homophobic. I've got gay friends and we snuggle. I'm not racist. I am black," he proclaimed. "I mean, the whole thing is just preposterous because they can't debate me, so they have to lie and hate."
"And the Avondale Brewery in Birmingham, Alabama has been bombarded with good families, really good, good people, a lot of military heroes, a lot of law enforcement heroes and just good working-hard, playing-hard Americans going, 'Boy, are you people stupid. Because I'm gonna go to the Ted Nugent concert that night anyway, just not at your place.' So it's too funny for words."
The post Ted Nugent declares "you can't cancel me" after cancelled Alabama concert appeared first on Guitar.com | All Things Guitar.
Source: www.guitar-bass.net