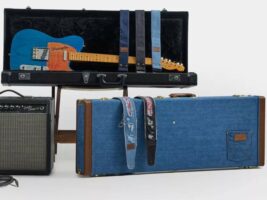 New Fender X Wrangler collaboration introduces all-denim guitar cases and straps
Fender has once again joined forces with clothing brand Wrangler – this time introducing a range of denim guitar cases and straps.
READ MORE: Manson shares details of new Strat-style guitar used onstage by Matt Bellamy
The new collaboration, launched today (3 March) shows the 1970s style coming back in full force and ensures that guitarists will turn heads, even before they begin playing.
Originally, the two brands teamed up in Spring last year, introducing a range of Fender-inspired clothing which aimed to bridge the gap between music and fashion.
This time around, the roles have been reversed, introducing a variety of guitar accessories that mirror Wrangler's signature denim looks.
The most eccentric items in the new range are the two new hardshell guitar cases, which sport an entirely denim finish. Available in Black and Indigo shades, the cases can cater towards both Stratocasters and Telecasters, and even come with a denim pocket to store your picks.
Image: Fender
As for the all-denim straps, Wrangler provides a relatively extensive range of options – meaning you can tailor the strap to your specific style. Three shades of Indigo and two shades of Black are offered, as well as Paisley and Ripped options
A pack of eight tortoiseshell 351-shaped picks have also been launched, as well as a range of graphic tees, jackets and vests which are resurrected from the 2022 launch.
Image: Fender
"Integrating iconic Wrangler elements especially into the new accessories collection, from guitar cases to straps and picks, was an exciting experience," said Richard Bussey, the Vice President of Accessories, Lifestyle and Licensing at Fender.
"We hope our latest collection inspires players, music lovers and beyond to incorporate unique elements into their personal style, both on and off stage."
Prices range from $10 to $250. Find out more about the Fender X Wrangler collaboration on Fender's website.
The post New Fender X Wrangler collaboration introduces all-denim guitar cases and straps appeared first on Guitar.com | All Things Guitar.
Source: www.guitar-bass.net