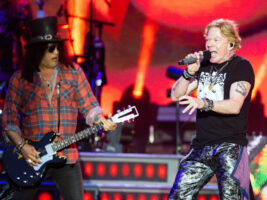 New Guns N' Roses single Perhaps reportedly arriving on Friday
Less than a month after Guns N' Roses' production manager spoke of new music dropping soon, a new single is reportedly set to arrive.
A previously-unreleased single, Perhaps, will apparently arrive on Friday (11 August) on all streaming platforms.
READ MORE: "It's always some fabricated, over-exaggerated bulls**t": Slash on why he doesn't want a Guns N' Roses biopic
The band haven't made any official announcements about the track – which is from the band's Chinese Democracy era – however, a link has appeared on the Universal Music website, allowing fans to save the pre-save the single on Spotify and Apple Music.
It'll be their first release since last year's EP Hard Skool, which featured two tracks released the year before, as well as live versions of Don't Cry and You're Crazy.
Perhaps, like Hard Skool, was written and recorded during the Chinese Democracy sessions. A rough demo version of the track has previously been leaked and uploaded to YouTube, but it looks set to have an official release in just a few days.
In June, the band soundchecked Perhaps before a concert in Tel Aviv, leading to suggestions that the iconic rockers might be lining it up for an official release. And it seems as though those suggestions were correct.
But it might not be the last new music GNR fans will be getting their hands on – last month, long-serving production manager Tom Mayhue said that the band will be working on new music in the style of debut album Appetite for Destruction sooner rather than later.
He said, "When the band went in originally and recorded Appetite For Destruction, I think they recorded, like, 29 songs. So there's a bunch of other music that was left over that didn't make the first record. I think there's only 11 songs on the first record."
The post New Guns N' Roses single Perhaps reportedly arriving on Friday appeared first on Guitar.com | All Things Guitar.
Source: www.guitar-bass.net