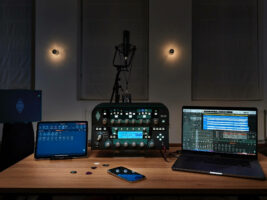 New Kemper Profiler update adds audio interface capabilities
Kemper's new Profiler OS 9.0 update has given the widely touted amp modeller audio interface capabilities.
READ MORE: Paul McCartney is using AI to create a "final Beatles record"
The new update introduces USB-audio connectivity for Mac, Windows and iOS, meaning it can now act as a DSP-based FX system for any digital audio workstation. According to Kemper, you can now use the Profiler's guitar input or DI track and route it to an amp of FX plug-in of your choice.
Additionally, the Profiler now works as an external FX unit, as its Delay and Reverb Studio FX can now be added to vocal and drum tracks, for example.
Another addition to the Profiler OS 9.0 update is Rig Marketplace. This is built into Rig Manager, and allows vendors of rig content to be visible with a "booth" on the marketplace. This makes for a convenient addition for users who wish to shop their their favourite creators' rigs with just one click.
Rig Manager is also a new feature, and allows the Profiling process to be started and controlled remotely. This is hoped to make creating a number of profiles easy, as they can be labelled and stored in the manager directly.
Profiler OS 9.0 comes a month after the announcement of Kemper's new 'Liquid Profiling' – which offers more in-depth and accurate control over amp profiles.
For the uninitiated, profiling allows users to extract the exact tone and feel from any amp, not only capturing the amp itself, but every aspect of its cabinet and microphone configuration. However, settings can only be adjusted after the fact – the profile doesn't fully capture the way the actual amp's EQ responds.
With the new update, Kemper hopes to allow users to retain the flexibility of the amp's actual EQ and gain settings through modelling, while retaining the accuracy of an amp profile.
For more information about the OS 9.0 update, head to Kemper.
The post New Kemper Profiler update adds audio interface capabilities appeared first on Guitar.com | All Things Guitar.
Source: www.guitar-bass.net