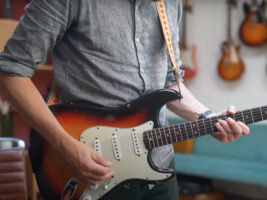 30 must-learn guitar riffs – according to 30 of the world's biggest social media guitarists
With the ever-expanding catalogue of killer guitar music out there, if you're a beginner guitarist, it can be hard to know what to get stuck into first. That said, there are a number of staples that even the most accomplished guitarist isn't complete without knowing how to play.
Naturally, the likes of Smoke On The Water and Sweet Child O' Mine regularly take a place on the to-learn list of aspiring six-stringers, but there's tonnes of other tracks that may not immediately spring to mind.
READ MORE: Guitarist replaces his strings with dental floss – and it sounds surprisingly good
Fortunately, in his latest video, YouTuber Paul Davids has done the hard work in collating 30 essential guitar riffs by tracking down 30 of the world's biggest social media guitarists and asking them, "What is the one riff every guitarist should know?"
Luckily, the mammoth task was made easier for Davids as he cleverly opted to conduct the survey at the 2023 NAMM Show, meaning musicians from around the world had congregated in one location. Still, the show itself – which took place back in April – was staged across the sprawling Anaheim Convention Center in California, so Davids still had his work cut out in tracking them down.
First, Davids spots Peter "Danish Pete" Honoré of the Andertons Music Co YouTube channel, who without hesitation says every guitarist should learn the sultry clean riff from John Mayer's Slow Dancing In A Burning Room. "It's about the feel, the control, the emotion, and the touch of the strings," he says.
Next, Davids catches up with guitarist and Stormzy collaborator Rabea Massaad by the Bare Knuckle booth, who offers a more attitude-heavy suggestion with Michael Jackson's Beat It, the riff of which was, of course, played by Toto legend Steve Lukather. "It's a beast riff, and it's really fun to play, too." Massaad says.
From the likes of Samurai Guitarist, Rhett Shull, Pete Thorn, Trey Xavier and Rob Chapman come a host of other must-learn guitar riff suggestions, including The Beatles' Here Comes The Sun, Lynyrd Skynyrd's Sweet Home Alabama, Tool's Schism, Metallica's Nothing Else Matters, Nirvana's Smells Like Teen Spirit and Cream's Sunshine Of Your Love.
You'll have to watch below to find out who suggested what, though…
To see more from Paul Davids, head to his official YouTube channel.
The post 30 must-learn guitar riffs – according to 30 of the world's biggest social media guitarists appeared first on Guitar.com | All Things Guitar.
Source: www.guitar-bass.net