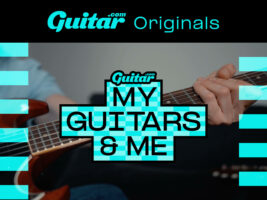 Newly revamped Guitar.com launches Guitar.com Originals: My Guitars & Me
Today, following on from the recent revamp of Guitar.com, and the launch of Guitar.com Originals with Guitar Shopping earlier this month, we're thrilled to announce the launch of a brand new Guitar.com Originals series: My Guitars & Me.
Since its inception, Guitar.com has offered audiences expert insight and opinion on the latest gear, artists and trends in the guitar world. Guitar.com Originals was launched to expand on Guitar.com's commitment to creating elevated experiences for guitarists, music obsessives and industry professionals.
My Guitars & Me sees artists and guitar enthusiasts from across the global pop culture landscape introduce Guitar.com audiences to their most cherished and beloved instruments, uncovering the unique stories behind each guitar and how they've helped shape their lives.
With new episodes released every month, My Guitars & Me will explore the special bond formed between a guitar enthusiast and their instruments, pulling back the curtain to find new perspectives on the impact guitars can have on their owners' creative journeys. And first up, we have British solo artist Miles Kane.
Holly Bishop, Chief Operating & Commercial Officer of NME Networks, Guitar.com's parent brand, says, "We're delighted to introduce My Guitars & Me as the latest Guitar.com Original.
"Following the recent Guitar.com rebrand, we're continuing to double down on creating unmissable new content that delivers on connecting our audience with their passions through unmissable and exciting content featuring Guitar.com's favourite guitarists. And there's still more to come."
My Guitars & Me joins two existing cross-platform Guitar.com Originals series: Guitar Shopping and 60 Seconds.
In Guitar Shopping, we invite some of the world's most exciting guitarists to our favourite guitar stores, and explore the shelves to learn about their gear highs and lows, the instruments that have defined their careers and the guitars they just can't live without. The first episode launched earlier this month with inaugural guest Bartees Strange.
Meanwhile 60 Seconds caters to gear enthusiasts sick of too much talking and waffle in gear demo videos, offering all the relevant information and useful audio examples you need in just 60 seconds.
Guitar.com's recent rebrand saw a vibrant new identity rolled out across all channels, reflecting the energy and creativity of Guitar.com's audiences and the emerging and legacy talent the brand continues to champion.
In a major new step, Guitar.com has also launched an industry hub, a bespoke destination for industry professionals, featuring the latest news, expert industry analysis, and a job board.
The post Newly revamped Guitar.com launches Guitar.com Originals: My Guitars & Me appeared first on Guitar.com | All Things Guitar.
Source: www.guitar-bass.net