NGD: Majesty Spice Melange
Couldn't have just ONE EBMM! After drooling every time I pickup my Sabre HT (since late April), and having some inheritance money incoming – I did my research and got that Majesty I've been gassing over. I've had it a couple days, and I love it!
Was treated very well by Gabriel @ Miami Guitars and I highly recommend them if you're in the market.
Req'd porn: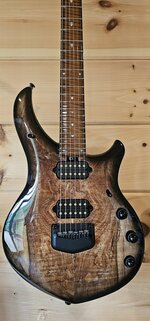 Source: http://forums.ernieball.com