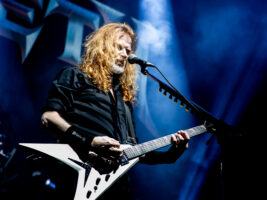 "I was driven by revenge": Dave Mustaine recalls how "anger" at Metallica split led to him form Megadeth
Dave Mustaine has reflected on his departure from Metallica, saying that the subsequent formation of Megadeth and his earliest ambitions for the project were "driven by revenge".
It's well-known that MegaDave had a two-year stint as the lead guitarist of Metallica, but was removed from the band in 1983, shortly before the release of debut album Kill 'Em All. Tensions between Mustaine and the other members had come to a head over his alcoholism and an incident where he attacked frontman James Hetfield after he allegedly kicked Mustaine's dog.
READ MORE: David Ellefson: "When Marty quit, he washed his hands of Megadeth. He left his money on the table and didn't turn back"
Mustaine was woken up by the rest of the band in New York on April 11, 1983 and was fired on the spot before being sent to Los Angeles on a one-way bus ticket. It was on this journey, however, that he came up with the name for a new band, after seeing the words "The arsenal of Megadeth can't be rid," on a political postcard he'd picked up on the way.
"I was driven by revenge," Mustaine says in the new issue of Metal Hammer. "I was angry about what happened with Metallica, and all the way home, I kept thinking 'I'll just be faster, I'll be better and my songs will be heavier."
Elsewhere in the interview, Mustaine discusses what it was like to briefly have Slayer's Kerry King play in Megadeth in the band's earliest days.
"When Kerry sat in with us [for five gigs in early 1984], he was doing us a huge favour," he says. "He didn't have any plans on being in Megadeth because he loved Slayer, and that was his band. I really didn't want to take him away from another band. Poaching bandmembers has never been something I've been into."
He also delves into his reluctance to step up and become the vocalist of the band, which came about after he found a dearth of suitable people to take on the job, particularly given his ambitions to write music faster, angrier and more complex than the mainstream metal of the time.
"I was reluctant up until the last minute," Mustaine said. "And then I finally said 'OK, fuck it, I can't be worse than some of these other dudes."
The post "I was driven by revenge": Dave Mustaine recalls how "anger" at Metallica split led to him form Megadeth appeared first on Guitar.com | All Things Guitar.
Source: www.guitar-bass.net