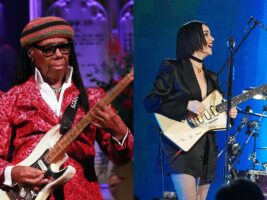 Nile Rogers is working with St. Vincent on new music
Nile Rodgers has confirmed that he's working on new music with St. Vincent.
READ MORE: Brian May's Twitter hacked by "idiots" to sell MacBooks
The Chic guitarist took to Instagram to share a photo of the pair, revealing that he is "working on new music with St. Vincent", before referring to her as "so real deal" and "f-ing wonderful. I'm trying to not lose my mind too!"
You can see the full post below:
View this post on Instagram
A post shared by Nile Rodgers (@nilerodgers)
St. Vincent, aka Annie Clarke, has not yet commented on the collaboration but has been sharing photos from within Electric Lady Studios in New York City.
The collaboration between the pair is exciting but somewhat unsurprising, as Rodgers has previously spoken about their friendship and the potential for new music from the two.
"Somehow she was introduced into my life only a few months ago," says Rodgers. "I started to go back and listen to the work she had done with my old engineer and she started sending me some new stuff. I was like 'wow! That's really cool'.
"I would have never thought of using the guitar like that or composing like that and it was really interesting," the Chic guitarist continues. "It was very eclectic and she was using different ways of expressing herself, the fact that we're vibing so much is interesting because just as guitarists we are very different. The fact she's doing what she's doing is really fascinating to me.
"Right now we're just vibing, listening to each other's music and talking. But that could easily develop into a musical relationship."
Rodgers also revealed in December that he is working with Coldplay on some new music.
Speaking to The Sun's Bizarre column, Rodgers revealed that he was one of the musicians recording with the band. "What was great working with Coldplay is that we're all in the room together and it's sort of like a spiritual thing," says the guitarist.
The post Nile Rogers is working with St. Vincent on new music appeared first on Guitar.com | All Things Guitar.
Source: www.guitar-bass.net