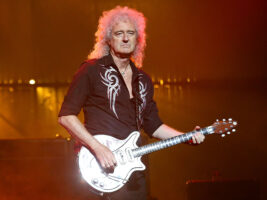 Brian May's Twitter hacked by "idiots" to sell MacBooks
Brian May has issued a plea asking fans to spread the word after his Twitter account was hacked by "idiots" to sell MacBooks.
READ MORE: Brian May says Queen were "never happy" with debut album: "There [were] an awful lot of overdubs"
The Queen rocker was alerted of the hack when strange tweets began appearing on his 1.1 million follower account, scamming fans into 'buying cheap laptops'.
Watch out y'all,@DrBrianMay Twitter account has been
hacked!! pic.twitter.com/Etce7gjLzl
— Melina Brian Queen (@Veroadell) January 27, 2023
One tweet saw the hacker posing as the guitarist, claiming to be selling 'personally signed' MacBooks at $600 for a 'charity fundraiser'. The account has also been set to private, which prompted May to take to his Instagram to warn fans.
Addressing his 3.1 million followers in an Instagram video, May said: "Well folks, apparently it seems that some idiot has hacked my Twitter account. Obviously I'll try to get it stopped, but people just waste your time, don't they?
"Isn't it incredible they don't have more useful things to do with their lives?" the singer ranted. "So whoever's done it, well done mate. Just brilliant. You must be so proud of yourself."
May continued, "And ignore my Twitter, okay? To be honest I'll probably… well, we'll see what we do. God bless you all and thanks very much, and hopefully I'll see you soon."
The musician also stated in his caption: "Please spread the word – especially if you are on Twitter. This pathetic hacker is trying to scam people into buying cheap laptops ! Please tell all your followers not to get taken in. Can someone please tell Elon Musk ?! Thanks – BRI."
View this post on Instagram
A post shared by Brian Harold May (@brianmayforreal)
Meanwhile, the band's official Twitter account has also alerted fans to the hack, along with a plea for recent Twitter CEO Elon Musk to resolve the issue.
Warning @DrBrianMay's Twitter account has been hacked. Please assist @Twitter @elonmusk
— Queen (@QueenWillRock) January 28, 2023
The post Brian May's Twitter hacked by "idiots" to sell MacBooks appeared first on Guitar.com | All Things Guitar.
Source: www.guitar-bass.net