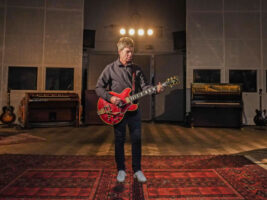 Noel Gallager confirms August release for new Gibson Custom Shop ES-355 signature
Noel Gallagher has confirmed a 30 August release date for his long-awaited signature Gibson ES-335 signature model.
READ MORE: The Money Shot: Gibson Noel Gallagher J-150
In a not-particularly-wordy tweet, Gallagher wrote: "Launching 30.08.2022," tagging it "#Gibson" and "#GibsonCustom". He attached a photograph of himself playing the guitar. While that doesn't exactly tell us much, we do now know when the full details of Gallagher's signature model will be revealed.
Launching 30.08.2022#Gibson #GibsonCustom pic.twitter.com/sS1pYAF4am
— Noel Gallagher (@NoelGallagher) August 23, 2022
The guitar was first confirmed back in May, with a similarly protracted social media post reading simply "August 2022", and featuring a teaser video.
View this post on Instagram
A post shared by Noel Gallagher's HFB (@themightyi)
During an interview with Guitar World in 2015, Gallagher spoke about what his approach to creating a signature would be. He stated: "I've been asked and I kinda can't be fucking bothered. [If] I was to sit down and design a guitar, it would be exactly the same as the one I fucking play."
He explained why: "My main guitar, my 355, is in no way unique. It hasn't got any unique, specific features on it. It's just a fucking great guitar. It sounds great, has great pickups. I mean, what more could you do to a guitar? The guitar itself is really not important. It's the fucking player, isn't it?"
The guitar follows Gallagher's first signature with Gibson, a recreation of his J-150 acoustic. Limited to just 200 pieces and priced at $4,299/£3,799, the guitar featured a sitka spruce top, figured maple back and sides and a hand-rubbed Historic Thin finish.
The post Noel Gallager confirms August release for new Gibson Custom Shop ES-355 signature appeared first on Guitar.com | All Things Guitar.
Source: www.guitar-bass.net