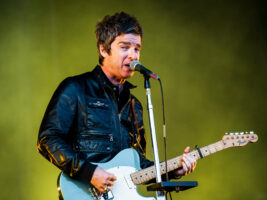 Noel Gallagher calls out "terrible" reception to new songs on US tour
Noel Gallagher has called out the "terrible" reception of American audiences towards the new material off his latest High Flying Birds album, Council Skies.
READ MORE: Joe Bonamassa now owns this ultra-rare electric guitar from Norman's Rare Guitars
Speaking on a new episode of Rolling Stone's Music Now podcast, the former Oasis rocker – who recently kicked off his North American tour with rock outfit Garbage – admits that responses to those new songs have been "terrible" at his live shows on US soil so far.
"I'm starting off with five new ones," Gallagher says. "People should have bought the fucking album, then, shouldn't they? So they're gonna stand there with their mouths open thinking, 'What the fuck is this?'"
"I should advise them to go to their preferred streaming service," he adds.
Elsewhere in the interview, Gallagher also shares that he has been avoiding songs that remind him of his old band, explaining that he only persevered with Easy Now – widely regarded as the album's most Oasis-like track – "because it was so good."
"All the rest of them that I've kind of shied away from, as soon as I hit a chorus, I just go, 'Nah, there's no point in me putting it out and then a load of people going, well, just sounds like shit Oasis.' I know it does. However, when I was writing this song and I got to the chorus, I was like, 'Oh, actually, this one's pretty good.'"
"During the period of writing this album, I wrote a lot of material," Gallagher continues. "There is a lot of material coming down the line that's very heavily guitar based. So I guess people will say it's Oasis-y. But we're not there with it yet."
"I only shy away from it if the songs don't stand up, you know what I mean?"
Listen to the album's title track, Council Skies, below.
Last week, the feud between Noel and Liam Gallagher reached new heights, when Liam called out Noel's "damn right blasphemous High Flying Birds cover of Joy Division's Love Will Tear Us Apart. In response, Noel told Liam to "concentrate on what's left of his f***ing hairdo".
The post Noel Gallagher calls out "terrible" reception to new songs on US tour appeared first on Guitar.com | All Things Guitar.
Source: www.guitar-bass.net