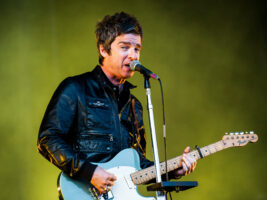 Noel Gallagher concert suspended after bomb threat
A Noel Gallagher concert was suspended over the weekend mid-show after a bomb threat at the venue shortly before the singer was supposed to take stage.
READ MORE: Norman's Rare Guitars founder says people used to call him "stupid" for collecting guitars
The former Oasis rocker was set to perform with his band, High Flying Birds, at New York's Saratoga Performing Arts Center –along with co-headliner Garbage and opening act Metric – on Saturday night when the incident occurred.
According to reports online, a message appeared on screen following Metric and Garbage's performances, stating: "ATTENTION! At this time, we will need to evacuate the venue. We ask that you calmly proceed to the nearest EXIT. Please follow directions of staff and police officers. For the safety of everyone, please do NOT rush or push. Thank you for your cooperation." (via The Daily Gazette)
While the organisers did not reveal the reason for the evacuation at the time, the New York State Park Police issued a statement the next day on its Facebook page confirming that it had responded to a bomb threat and that the case is currently being investigated as 'making a terrorist threat', a class D felony.
"Out of an abundance of caution, the concert at Saratoga Performing Arts Center was suspended ‪at 9:40 pm and concert attendees were evacuated without incident," the state police said. "K9s completed a sweep of the venue after the crowd exited, with negative results."
On 07/08/2023, The New York State Park Police, New York State Police, Saratoga Springs Police Department, Troy Police…
Posted by New York State Park Police on Sunday, July 9, 2023
Meanwhile, Garbage addressed the evacuation in a series of tweets Saturday night, writing "Our love and concern to all the fans at our show in Saratoga Springs tonight. We pray you are all safe and sound. This is fucking insane."
"We have no idea what happened tonight. We were just all evacuated and we were concerned for everyone!!! I'm sorry we have no real information. We were just told there was an emergency evacuation!"
Gallagher, who's currently on a joint tour with Garbage, has yet to comment on the incident.
The post Noel Gallagher concert suspended after bomb threat appeared first on Guitar.com | All Things Guitar.
Source: www.guitar-bass.net