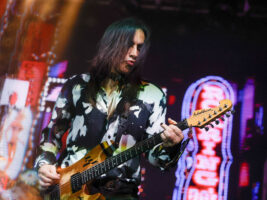 Nuno Bettencourt says modern guitar music is too complicated: "I don't even know what the f**k they're doing"
Shred king and Extreme guitarist Nuno Bettencourt has explained that the problem (to his mind) with modern guitar music isn't the music itself, but the focus on technical precision at the expense of rock 'n' roll mythology.
READ MORE: Vernon Reid says Nuno Bettncourt is a "much deeper" guitar player now than he used to be
Speaking with Australia's May The Rock Be With You , Nuno shared that while he can see certain bands attempting to keep the spark alive, "it's not just the music; it's all of it." 
Nuno highlighted several issues – from the downgraded theatricality of modern performers right down to the bland stage outfits, Bettencourt believes rock 'n' roll has become a thing of the past. "It's what bands wear. It's how passionate [they are]. It's watching a guitar player play a solo… you're hearing it, but you're also feeling it, you're seeing the passion," he says.
Given the larger than life glam metal scene that Extreme came out of in the 80s, you can quickly understand why Bettencourt is saying what he's saying. To him the art of rock 'n' roll, is intense, performative and at times undeniably camp – there aren't many modern artists still pursuing that kind of vibe, and to Bettencourt's eyes this is why when he watches modern bands he realises "how starved for rock 'n' roll I think we all are."
While acknowledging that technical level guitar playing is extremely high in 2023, Bettencourt also notes that the simplicity of rock 'n' roll was its charm. "There's so many guitar players I watch now that I don't even know what the fuck they're doing… it's so complex," he admits. "Straight Zeppelin, Queen, Van Halen and Aerosmith was just… 'Hey, we're playing barre chords sometimes.'"
"I've always believed that rock and roll is not complex," Nuno added. "The songs were pretty simple, the melodies were pretty simple… but when you went back and listened to it, there were complex layers in there… the word I use is 'simplexity.'"
This 'simplexity' is what Nuno thinks still has listeners hooked on Queen tracks decades on – something that works within the simpler, less ambitiously complex world of rock at the time, yet still manages to spice things up.
Back in June, Extreme released their first studio album since 2018, Six, which landed in the Top 10 on the Billboard charts, and had some feting Nuno as the heir to Van Halen at the pinnacle of shred guitar. 
The post Nuno Bettencourt says modern guitar music is too complicated: "I don't even know what the f**k they're doing" appeared first on Guitar.com | All Things Guitar.
Source: www.guitar-bass.net