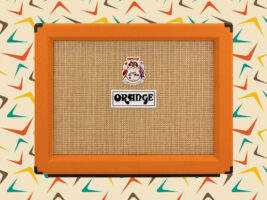 Orange Rockerverb 50 MkIII Neo 2×12 review: lighter amp, heavy tones
In 2015, Orange released MkIII of its Rockerverb series. This remains its top-of-the-line tube amp, pretty much; the gold standard for all and that Orange sound. It's the 50-watt, 2×12 combo that arrives to us again in 2023 as the Neo version – not because it can dodge bullets and wear dodgy sunglasses, but because it's sporting a new pair of Celestion Neo Creamback speakers, which help it clock in at seven kilos lighter than its previous Vintage 30-loaded version.
READ MORE: Boss Katana 50 MkII EX review: Not moving the bar, but polishing it
'Lightweight', when it comes to an amp like this, is a relative term. Seven kilos is certainly noticeable, but the whole thing is still over 30: not exactly featherlight, but still easier to lug up the venue's stairs than the average 4×12 cabinet. Six of the seven kilograms the amp has shed come from the change in speakers, with that last kilo coming from slightly slimmer Baltic birch plywood walls. But is separating an Orange amplifier from its beloved Celestion Vintage 30s a good idea?
In use
You might assume that if the amp is less heavy, so are the sounds. But plugging in and turning up, it's evident Neodymium speakers are every bit as capable of delivering the signature Rockerverb roar as V30s, albeit with a noticeably altered midrange character. But the recognisably unrestrained and throaty drive sounds you'd associate with an Orange are a breeze to coax out of the amp, as are some well-rounded, articulate clean tones. If you're into that sort of thing. No judgement, honest.
This isn't too surprising: other than the tweaked construction, the actual circuitry of the amp remains unchanged since MkIII of the Rockerverb was introduced in 2015. So at its core it's still a Rockerverb, and it's hard to make a Rockerverb sound bad. The controls are all very responsive: the bass, middle and treble knobs all drastically affect their respective bands, and the dirty channel's gain control takes a lengthy trip all the way from pushed-clean to full-bore saturation. The buffered effects loop sounds great, and the large spring reverb tank offers some lengthy, bright drippiness.
The potentiometers all have a notched, heavy-duty feel to them, which is a nice touch especially given this amp is no small chunk of change. In fact, construction across the board is top-notch: despite lightness being the name of the game here, nothing feels 'cheap'.
And in terms of decibels-per-dollar it's easy to see where the money's gone: when cranked, the Rockerverb 50 gets unbelievably loud, its perceived volume helped by Orange's classic midrange-forward voicing. Anyone who says you need 100 watts to gig, by the way, is lying to you: the sound engineer will be giving you dirty looks by about four on the master volume, and at full whack you'll be easily heard over a space shuttle launching.
Thankfully, the on-board attenuator makes achieving a non-deafening volume easy: it's placed between the power amp and the speakers in the signal chain, meaning you can get some lovely power-tube saturation without being blasted across the room like Marty McFly. In a live setting, you can also use a footswitch to disable it for a linear bump in volume if you don't feel like channel-switching.
So, it's lighter, you can use it at bedroom volume… is this the hyper-practical amp solution we've all been waiting for? Not exactly – even with the lighter speakers and slimmer construction, it's ultimately still a tube combo 30 times the weight of your average floor modeller. But in 2023, the spectrum of 'lightweight' amp solutions is wonderfully broad. If you're not fussy about tubes, Orange's own Super Crush 100 combo is 14 kilos lighter than this one, and still damn loud. If you're not fussy about stage volume, a Line 6 HX Stomp will fit in a gigbag. And so on.
But it would be a very boring world if we all wanted the same things out of our rigs, and an even more boring one with absolutely no big, slightly impractical tube amps. Every solution comes with some compromises, so it's good to see Orange give some consideration to the backs of those unwilling to budge on having real tubes in their amps. And when this thing gets going, it's easy to see why you wouldn't want to give up that glowing glass.
Key Features
PRICE £2,199
DESCRIPTION Two-channel all-valve 50-watt combo amplifier, made in the UK
CONTROLS: Reverb level, Clean/Dirty channel selector, Clean channel: Volume, Bass, Treble. Dirty channel: Gain, Bass, Mid, Treble
FRONT AND REAR PANELS Guitar input, channel selector, wattage selector, global attenuator (full/standby/half power), reverb and channel-selection footswitch jacks, effects loop send/return
VALVES Preamp: 4xECC83/12AX7 & 2xECC81/12AT7, Power amp: 2xEL34
SPEAKERS 2×12" Celestion Neo Creambacks
DIMENSIONS: 66.5 x 53.5 x 30.5cm
WEIGHT: 31kg
OPTIONS: Orange or Black covering
CONTACT: orangeamps.com
The post Orange Rockerverb 50 MkIII Neo 2×12 review: lighter amp, heavy tones appeared first on Guitar.com | All Things Guitar.
Source: www.guitar-bass.net