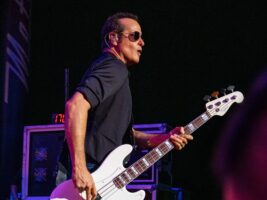 Robert DeLeo says Stone Temple Pilots tried to "buried" hit song Plush
Stone Temple Pilots bassist Robert DeLeo has discussed the band's rise to fame and the success of their hit Plush, noting that the band knew it would be "the song".
READ MORE: Albert King was the Immaculate Conception as a guitarist, says Joe Bonamassa: "Nobody before Albert played the way he did.
Discussing how the band's lives changed after the release of their first record Core in 1992, DeLeo told YouTuber and musician Rick Beato that the band were always aware Plush would be a success, explaining, "Plush – we kinda knew that's gonna be the song, and we kind of buried it on the record cause we knew what Atlantic was gonna do," though he qualified that the band were eventually afforded a lot of leeway due to their hitmaker status.
DeLeo nonetheless shared that the band could feel the increased pressure from the success of the record and Plush. However, he continued, when the band got together to produce their sophomore record Purple in 1994, "Out of all of that, it was always about the songs to me – to all of us. We did our work. We went in and on Purple, we went in there and we were prepared."
"We wanted to go in there and make a statement, and change sonically – we've always kind of changed things sonically," DeLeo said, adding, "I think that takes an enormous amount of internal catalogue. And that goes back to listening well – listening to different kinds of music and adding it to what we call rock."
The post Robert DeLeo says Stone Temple Pilots tried to "buried" hit song Plush appeared first on Guitar.com | All Things Guitar.
Source: www.guitar-bass.net