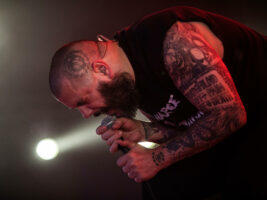 Pantera booked for new German shows following festival cancellations
Pantera have announced two new shows in Germany after the band's festival appearances in the country were cancelled earlier this year.
READ MORE: Dee Snider on reunions shows by KISS and Mötley Crüe: "The desire for more money trumps all, right?"
The revamped group — featuring Anselmo, bassist Rex Brown, guitarist Zakk Wylde and drummer Charlie Benante — will be playing on 2 June at Schleyer-Halle in Stuttgart and on 3 June at Messe Dresden in Dresden.
2 more European shows! 2 June – Stuttgart & 3 June – Dresden. Public onsale starts 3 March at 11am CET.
Posted by Pantera on Tuesday, February 28, 2023
Originally scheduled to perform at Germany's biggest twin festivals Rock Am Ring and Rock Im Park between 2-4 June, Pantera was booted from the lineup following an outcry over Anselmo's alleged racist behaviour in the past.
Specifically, the singer's "white power" outburst and alleged Nazi salute in 2016 was brought to the fore. While Anselmo has since claimed his actions were an inside joke about the white wine he was drinking backstage, and issued a video apology for his behaviour, organisers still faced pressure from Germany's Green Party to remove Pantera from the festivals.
The party's council members called Anselmo's apology a "trivialisation", saying it was "unimaginable" that the group would be allowed to perform on the same site where the Nuremberg rallies took place.
Shortly after, the band's appearance at Vienna's Gasometer was also cancelled. Officials said that they made the call after "many intensive conversations with artists, our partners and you, the festival fans".
Meanwhile, Foo Fighters have announced that they will be taking Pantera's place as headliners at the Rock Am Ring and Rock Im Park festivals.
The post Pantera booked for new German shows following festival cancellations appeared first on Guitar.com | All Things Guitar.
Source: www.guitar-bass.net