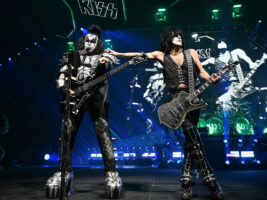 Paul Stanley dismisses Gene Simmons' 'rock is dead' comment as "a great soundbite"
Here's what Paul Stanley really thinks about fellow KISS bandmate Gene Simmons' much-repeated lament that 'rock is dead'.
READ MORE: Steve Vai clarifies 'unreleased Ozzy Osbourne album' comments: "I spoke a bit carelessly"
"It's a great soundbite, but that's about all it is," Stanley said of the remark in a new interview with Louder. "My son Evan is playing all around Los Angeles with a rock band that kicks ass and is getting great crowds, with beautiful models coming, and that's proof to me that rock's not dead."
"The music that is most popular to mainstream tastes changes over time, and it ebbs and flows."
He added that "There's a lot of rock music being made right now, and some of it may be too derivative to really stake a claim and take it to the next level, but it will happen, it will happen. But the next big rock band won't be huge because it sounds like a band from the past, it will have its own voice."
The guitarist is far from the first or the only one who disagrees with Simmon's theory — a slew of other musicians including Dave Grohl, Dee Snider, Shirley Manson, Slash, Joe Perry, Rob Halford, Tony Iommi, Alice Cooper and more have denounced the KISS bassist's complaint over the years.
"Nothing makes me crazier than the words 'rock 'n' roll is dead," Snider rebuked. "It is so selfish, it is so self-serving, it is so self-absorbed. Self-this, self-that. It's just wrong. Get out of your fucking house, open your fucking ears and eyes, and just look around! Stop hiding."
In other rock-isn't-dead-related news, KISS have announced the dates for their final ever — supposedly for real this time — UK shows, as part of a European 'End of the Road' tour that will run from early June until mid-July.
"There's a lot of talk about everything. And nobody knows what's gonna happen in the future. So what we've kind of put in our minds is let's go through this like this is the end of KISS as we know it," said the band's longtime manager Doc McGhee.
The post Paul Stanley dismisses Gene Simmons' 'rock is dead' comment as "a great soundbite" appeared first on Guitar.com | All Things Guitar.
Source: www.guitar-bass.net