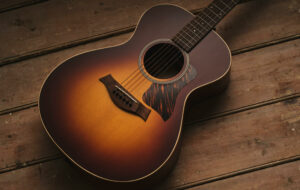 Taylor AD12e-SB review: a Taylor for people who think they don't like Taylors
Taylor's American Dream series is now established as an integral part of the company's line with a steadily expanding array of lower-price no-frills acoustic guitars replete with an organic open-pored feel and sound. Not bad going for a series born out of necessity due to the Covid-19 pandemic.
READ MORE: Taylor 514ce Urban Ironbark – This sustainable powerhouse pulls its weight in the lineup
A trifecta of new guitars has recently hit the market in Grand Theater, Grand Pacific and Grand Concert formats and we are delighted to open a heavy duty Taylor AeroCase gig bag to find the latter ensconced within. Not that we have anything against the others of course, but we are particularly intrigued to see how the American Dream ethos works in the context of one of Taylor's oldest models.
Image: Adam Gasson
First introduced in 1984, Taylor's Grand Concert design won many admirers as a lively fingerstyle instrument that could also be pressed into service to support vocals. It's a comfortable body shape both seated and standing and often has a balanced, if not particularly powerful, sound.
What the AD12e-SB may lack in terms of a snappy name it more than makes up in brooding good looks. There's no doubt that at first glance this is an eye-catching instrument with its deep, hand-applied sunburst finish over the sitka spruce soundboard. While Taylor don't specify a genus of walnut used for the back and sides, it looks to us like Claro walnut (Juglans Hindsii) – a wonderful wood in the right hands which has featured in some exceptional instruments we have reviewed over the years.
Image: Adam Gasson
American Dream series guitars are readily identifiable by their open-pore matte finishes. There is a tactile element to the experience of playing one that is either earthy, honest and organic or rough and unfinished depending on what you expect out of a Taylor acoustic guitar. This is either complimented or exacerbated – once again depending on your viewpoint – by the use of D'Addario XS phosphor bronze strings which retain the dry-feel texture of uncoated strings.
Image: Adam Gasson
The tropical mahogany neck joins the body at the 14th fret and is topped off with a dark eucalyptus fretboard – Taylor is obviously saving the ethically sourced ebony for more fancy fare. Nevertheless it does not look out of place. The carve, like just about every Taylor we have played, is comfortable and immediate – it feels particularly good for thumb-over playing – but as with the rest of the guitar, the open-pored finish will divide opinion.
Image: Adam Gasson
Following the rugged sparsity of the original American Dream models – this instrument relies on economy of style in terms of aesthetics. The firetrap pickguard, black tusk nut and matte black Taylor-branded machine heads hint at no-nonsense functionality. In fact, closer inspection reveals that by Taylor's usually immaculate standards things are a little uneven here. This isn't a criticism per se – it's similar to the difference between the microscopic attention to detail of Collings Guitars and the brand's adorably scruffy Waterloo line. The AD label allows for a more laissez faire attitude towards the finest details of fit and finish, but perhaps with a little more character and individuality than you'd traditionally expect from a Taylor.
Image: Adam Gasson
Plugged in duties are handled by Taylor's capable ES2 Active pickup system. It speaks volumes that Taylor trusts this system to do a great job across its entire range.
Image: Adam Gasson
In use
Our first impressions are of a lightweight and springy little guitar with an attractive shimmer across the top end. There is a strong fundamental to each exploratory note reminiscent of woods from the acacia family such as Hawaiian koa and Tasmanian blackwood. The overtone content is limited but that can help when supporting vocals – no singer wants to have to push their voice through a cloud of upper partials to get their point across.
Standard tuning fingerstyle with short nails works well – the metallic transient typical of a Sitka top is softened slightly by the walnut back and sides. The shorter 24-7/8ths" scale length also goes some distance to giving the guitar a sweetness to the voice – and we feel it would be great to hear that taken further in a 12-fret version at some point in the future.
Image: Adam Gasson
Throughout, the guitar's voice is nicely balanced. Andy Powers' V-Class bracing is also now an established part of the Taylor Guitars experience and though there will always be purists who prefer an X-braced instrument, this chirpy six-string feels structurally sound. It won't be giving Bay Area luthiers sleepless nights in terms of speed of response or timbral range but it does have a pleasing amount of both for the asking price.
Adding a pick to proceedings brings an appreciable sizzle to the trebles as well as a jump in volume across the board. The bass response remains in-line with what we'd expect from a small-body Taylor; present if not authoritative. Moving chords up the neck shows a consistency of timbre and volume that can make for very musical moments with arpeggiated chords and lead lines. It records well too – under either a single large capsule or a pair of small capsule condenser mics. There is, however, more body noise than on a conventionally finished guitar.
Image: Adam Gasson
Sliding gently into DADGAD tuning yields broadly workable results – the additional sympathetic resonance from the open strings giving the voice real breath and body. That said, things do get a little smeared as we get into extended chord territory especially in the low mids and bass. There is also an imbalance in note length with certain frequencies choking prematurely.
In all cases the ES-2 pickup system does sterling service rendering our unplugged sound into a workable and inspiring amplified voice which absolutely loves reverb and delay.
Image: Adam Gasson
Taylor Guitars came to prominence with a line of glossy instruments featuring exceptionally clean fit and finish and a hi-fi treble response that contrasted greatly with the woodier timbres of their competitors at the time. The American Dream series is the antithesis of that. This is a characterful guitar whose rough-hewn charm – and accompanying body noise – will appeal directly to players who may have found the old-school Taylor sound a little "sterile" and somewhat lacking in personality. This could be the Taylor that changes your mind.
Image: Adam Gasson
Key Features
PRICE £1,799 (including semi-rigid AeroCase gig bag)
DESCRIPTION Six-string Grand Concert-size acoustic guitar, handmade in the USA
BUILD Walnut, 14-frets to the body, tropical mahogany neck, eucalyptus fretboard with 20 frets, ebony bridge and bridge pins, Tusq nut, firestripe plastic pickguard, single ring rosette, acrylic dot position markers
HARDWARE Taylor closed back tuners in satin black
ELECTRONICS Taylor ES2 active pickup system
SCALE LENGTH 24 7/8" – 631.8mm
NECK WIDTH 44.3mm at nut, 54.5mm at 12th fret
NECK DEPTH 20mm at first fret, 22mm at 9th fret
STRING SPACING 38.3mm at nut, 55.7mm at bridge
WEIGHT 2.2kg
FINISH Matte Open Pore Tobacco Sunburst
LEFT-HANDERS No
CONTACT taylorguitars.com
The post Taylor AD12e-SB review: a Taylor for people who think they don't like Taylors appeared first on Guitar.com | All Things Guitar.
Source: www.guitar-bass.net