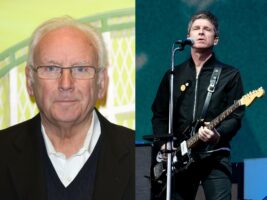 Pete Waterman on helping "gas fitter" Noel Gallagher kickstart his music career
Pete Waterman has revealed his role in kickstarting Noel Gallagher's music career during the Oasis rocker's "gas fitter" days in Manchester.
READ MORE: Strymon Cloudburst: New 'Ambient Reverb' pedal allegedly leaks with pricing information
The producer slash one third of '80s/'90s hit makers Stock Aitken Waterman (SAW) recently took part in NME's Does Rock 'N' Roll Kill Braincells?! Quiz, during which he named Noel Gallagher as the most unexpected fan of SAW's work.
"I've had some absolutely unbelievable conversations with him," Waterman said.
"When he was a gas fitter in Manchester, my studio was across the road from him, so he'd nip over at lunchtime and steal my guitar strings because he couldn't afford them."
"He always credits me with giving him his start. Without my free guitar strings, he couldn't have carried on."
Elsewhere in the interview, Waterman also recalled working with Paul McCartney on the SAW-produced all-star Ferry Aid charity cover of The Beatles' Let It Be, calling the experience a "surreal" one.
"You're working with a Beatle for Christ's sake!" Waterman said. "He's a perfectionist. He kept wanting to do more vocal takes. Even when the record was Number One, he was still telling me he could do it better!"
Last week, Gallagher announced his fourth studio record with The High Flying Birds, Council Skies, due 2 June. Fans were also surprised when Noel told BBC Radio Manchester to "never say never" to an Oasis reunion, given that the musician once slammed the idea as 'going on holiday with your ex-Mrs', saying "If we got back together, it would be a circus, and there's no point."
The post Pete Waterman on helping "gas fitter" Noel Gallagher kickstart his music career appeared first on Guitar.com | All Things Guitar.
Source: www.guitar-bass.net