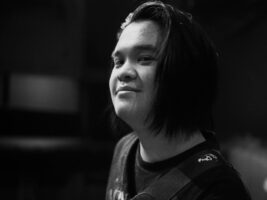 Polaris guitarist Ryan Siew dies aged 26
Polaris guitarist Ryan Siew has passed away aged 26, and tributes from fans and musicians alike have flooded in for the young musician.
A message from the band posted yesterday 27 June announced his passing. "It is with shattered hearts and the deepest sorrow that we tell you our dear brother and bandmate Ryan Siew passed away on the morning of Monday June 19," it says. "He was 26 years old, and for 10 incredible years he was our best friend and artistic soulmate. Those years will never be enough.
"He was kind hearted and clever, he was funny and brave and creative, and he was talented beyond all measure. He loved art, and beauty in all its forms."
The statement also shares how he adored his family and friends, and loved music "more diversely than you could ever imagine", and adds, "He was also much admired and beloved by so many. Ryan, we will love and miss you for the rest of our days, and we will never fill the hole that you leave in all of our lives."
The band have shared that their hearts are with his family, but also with those whose lives he touched. They have asked for privacy at this time whilst his family and loved ones grieve their loss.
You can read the full, touching statement below:
View this post on Instagram
A post shared by P O L A R I S (@polarisaus)
Further messages of support and tributes to Siew have been shared online:
Absolutely heart broken. Ryan was one of the most talented musicians I've ever met, let alone toured with. Not only did he inspire me to be better, but he was such a joy to be around & could light up any room just by walking in. My heart goes out to his family & the Polaris camp. pic.twitter.com/i7OwqOtdPu
— Seth Blake (@SethWageWar) June 28, 2023
We are heartbroken for both Ryan's family and the Polaris family. Our sincere condolences and love to you all https://t.co/3hbNTaAi5j
— Wall Of Sound (@wallofsoundau) June 27, 2023
RIP to a legend. One of the best guitarists to grace the scene, so young too… I used to watch his guitar covers back in the day on YouTube before his days in Polaris… man it's a sad day for the scene.
Ryan's family, band mates and friends have my deepest condolences https://t.co/jB801ePy3e
— METALBIRB (@METALBIRB1) June 27, 2023
View this post on Instagram
A post shared by Bare Knuckle Pickups Official (@bareknucklepickupsofficial)
View this post on Instagram
A post shared by Mayones Guitars & Basses (@mayonesguitars)
Polaris had been preparing to release their third album, Fatalism, this September. No official cause of death has been shared at this time.
The post Polaris guitarist Ryan Siew dies aged 26 appeared first on Guitar.com | All Things Guitar.
Source: www.guitar-bass.net