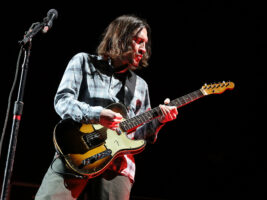 A guitar teacher once told John Frusciante he was "not a good guitarist" – so he set out to play like Steve Vai
A guitar teacher once told John Frusciante of Red Hot Chili Peppers that he was "not a good guitarist", as he couldn't play a blues scale fast enough for his liking.
READ MORE: Watch: John Frusciante deals with cramp during live solo in true pro style
Frusciante is often regarded as one of the guitar greats of this generation, and as he spoke on a new episode of This Little Light – the podcast hosted by bandmate and bassist Flea –  Frusciante revealed the hardships that went into achieving the level of skill he has now.
"This guy, he said, 'Let me see you play a blue scale as fast as you can.' And I played a blue scale as fast as I could, and he's like, 'That's not fast. You're not a good guitarist,'" recalls Frusciante of the tutor (via Guitar World).
He also shared some recordings of his playing with the teacher, and it appears the two could not meet eye to eye over playing style and technique: "He said, 'You know that noise you're making on your recording is OK, but if you can't play a fast blue scale, you can't go around telling people you're a good guitarist," he adds.
"I never went to this guy again. The feeling of being told that I wasn't a good guitar player was about the worst feeling I could imagine, and I was just gonna make sure that no one was going to say that to me again."
He later explained how it was Steve Vai who became his "benchmark" for how he wanted to play, throwing the criticism of his former teacher to the wind: "It was around that time Frank Zappa and Steve Vai just became my favourite thing. I think I'm about 16 by this point. And I just started learning every complicated Frank Zappa piece of instrumental music that he'd written."
But in his quest to prove his guitar teacher wrong, Frusciante says he set off down the wrong path for him, prioritising dexterity and speed over what came naturally to him as a player.
"I told him [the teacher], 'I can't figure out whether to be a textural guitarist or a flashy guitarist,'" he says. "He said, 'Of course flashy guitar player, because flashy guitar players can do whatever they want, but the textural guitar player can't do what a flashy guitar player does.' And that was his logic – I suppose on some level I saw the logic of what he was saying, but at the same time, I saw that different people have different things to say."
You can listen to the full episode below:
Red Hot Chili Peppers are currently on tour, get tickets to see them via their website.
The post A guitar teacher once told John Frusciante he was "not a good guitarist" – so he set out to play like Steve Vai appeared first on Guitar.com | All Things Guitar.
Source: www.guitar-bass.net