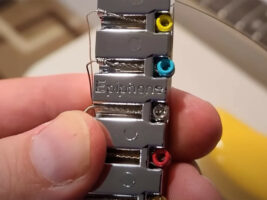 There's peace in the guitar world at last – this official Squier features a bridge made by Epiphone
The new Paranormal Series Squier Strat-O-Sonic features the unlikely anomaly of a wrap-over bridge, but what makes it even stranger is that it is made by one of the brand's fiercest competitors – Epiphone.
READ MORE: The best beginner electric guitars in 2023: 10 killer options for new guitarists
The new Strat-O-Sonic was launched earlier this month as part of a massive drop of Paranormal series instruments. Five new designs were added, which put a new spin on classic Fender designs.
At the time of the launch, we shared that the model featured a tune-o-matic wrap-over tailpiece and lightheartedly wrote, "the perfect Fender-meets-Gibson matchup?" Of course, we had no idea that this unlikely bridge was actually made by Epiphone.
In a new video from YouTuber Landon Bailey, he shares how he took the strings off the model to get a closer look at the bridge, revealing that embossed Epiphone logo underneath. "Ready to have your mind exploded? It's just a regular wrap-around bridge from, you know, Squier, made by Fender. Nothing weird," he says as ominous music plays.
"Nothing weird at all, let's take a look at it closer though, I took the strings off and I was just moving it around and then I flipped it over, and ready for it? It's Epiphone. What's going on here?"
You can watch more at the four minute mark:
Elsewhere, the model also has Soapbar P-90-style pickups and a 24.75" scale length rather than the traditional Strat 25.5". The master volume and tone controls also have push/pull functionality – one selects between series and parallel wiring modes, with the other switching the pickups out of phase – something that wasn't listed in the original information at launch.
This guitars' quirks do show many similarities with the Gibson Les Paul Special, hence why Bailey has joked in his video title that this funky new addition is almost as if Fender and Gibson had a lovechild. Insanity.
The Strat-O-Sonic is priced at £409.99. Find out more over at Fender.
The post There's peace in the guitar world at last – this official Squier features a bridge made by Epiphone appeared first on Guitar.com | All Things Guitar.
Source: www.guitar-bass.net