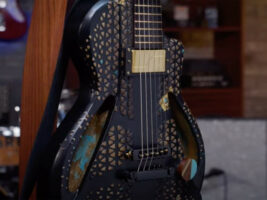 Reverb celebrates International Women's Day with performance using gear built by women
To celebrate International Women's Day 2023, Reverb hosted band Neptune's Core at their headquarters to play through a collection of gear made entirely by women.
READ MORE: Women and non-binary players make up less than 6% of signature guitar market, study finds
As women instrument builders make up less than 2 percent of gear brands, Reverb launched the "Unmanned Mission", where  it set up a range of exciting gear designed by women which the band used for a performance of their mighty track, Drowning.
Featured in the video is:
Rosenkrantz Honfleur guitar – A semi-hollow guitar from Atelier Rosenkrantz, which features eggshells inlaid with a Urushi lacquer and gold leaf. It was designed with natural and upcycled materials, and is equipped with an active Fishman Fluence pickup.
Custom T-style guitar – From Cindy Guitars, crafted using recycled, reclaimed wood from New York City buildings, this guitar features custom Dark Moon pickups and was crafted especially for this project.
Teeny Tulip bass – From TunaTone Instruments, a brand that centres the experience of players who are underrepresented in the industry at its core, this handmade, short scale bass is made with poplar Indian rosewood and a flame maple neck.
Wooly Coats Spanky MKII+ amplifier – Built by 3rd Power Amplification, this amp is described as "packed with warm, '60s tube amp power", and has a gain/boost toggle switch.
Glacier Hyper Modulator pedal – From Frantone Electronics, this ring modulator is "packed with tonal range and sonic surprises".
Electra Drive pedal – Built by Loe Sounds, this is a small but mighty one-knob distortion, fuzz and boost made with vintage and recycled parts.
Sensation Fuzz Drive pedal – Created by Heather Brown Electronicals, this pedal provides the best of both fuzz and overdrive.
Zero FX Boost pedal – Built by Rabbit Hole FX, this is a single-knob boost which can tackle complex sounds.
Rush Pepbox pedal – From Lucy Rush, this is a reissue of the Rush family's famed original circuit. Each of these pedals are handmade.
Analogue Phaser pedal – Another from Rabbit Hole FX, this pedal provides a range of wavering tones, and is aesthetically groovy too.
Watch the full performance below and learn more about the makers for the guitars, drums, pedals, straps and microphones featured:
Additionally, Reverb is running a giveaway for a Frantone Glacier ring modulator, and those interested can head over to Reverb's Unmanned Mission page to enter (closes 30 March).
The post Reverb celebrates International Women's Day with performance using gear built by women appeared first on Guitar.com | All Things Guitar.
Source: www.guitar-bass.net