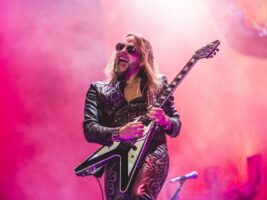 Richard Faulkner used a Bigsby-equipped Telecaster for his Firepower tone
Richard Faulkner of Judas Priest has revealed that he used a Fender Telecaster for his clean tone on the band's latest album Firepower.
READ MORE: Courtney Love shares Smells Like Teen Spirit lyrics which didn't make the cut
Faulkner, who is known for his preference for Gibson Flying V guitars, told Ultimate Guitar that he came across a Fender Telecaster Custom with a Bigsby tremolo system in a store in Amsterdam, where he was testing out a Miku pedal, a quirky effect that mimics the voice of a Japanese anime character. "Long story short, I bought both of them because the Telecaster was beautiful, and the pedal was ridiculous," he shared.
He then used the Telecaster for all of the clean parts on Firepower, running it through a Roland JC-120 amplifier.
Faulkner will not be deviating from his signature Flying V guitars however, telling the outlet, "The guitar on the record is a Gibson Flying V. The guitars that I end up using are Gibsons. They're my guitars of choice. That's the guitar that I put my name on… they're the guitars that I turned to… I gravitated towards Gibson because that was the sound that was enabling me to play the songs that I wanted to play. That was the sound that was in my head."
The guitarist also revealed that he used a white Gibson Les Paul for some of the distorted rhythm parts on Firepower, as well as a combination of Marshall JCM800 and EVH 5150 amplifiers.
Faulkner joined Judas Priest in 2011, replacing founding member K.K. Downing. He is also involved in a side project called Elegant Weapons, which features Rex Brown on bass and Scott Travis on drums.
The post Richard Faulkner used a Bigsby-equipped Telecaster for his Firepower tone appeared first on Guitar.com | All Things Guitar.
Source: www.guitar-bass.net