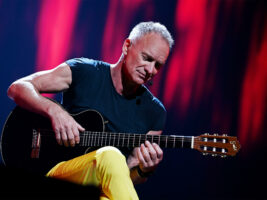 Sting says we must "defend our human capital against AI"
Sting has become the latest artist to voice concern over AI, saying we should be "wary" of the technology and that it will be a "battle we all have to fight" in the near future.
READ MORE: Courtney Love shares Smells Like Teen Spirit lyrics which didn't make the cut
"The building blocks of music belong to us, to human beings," Sting told the BBC in an interview on Thursday. "That's going to be a battle we all have to fight in the next couple of years: Defending our human capital against AI," he added.
Sting's comments come after a number of songs have used artificial intelligence to "clone" famous artists' vocals. In February, DJ David Guetta used the technology to add Eminem's "voice" for one of his tracks while a faked duet between Drake and The Weeknd went viral in April.
The latter was pulled from streaming services after a copyright complaint from Universal Music Group, which is also the label that releases Sting's music.
"It's similar to the way I watch a movie with CGI. It doesn't impress me at all," Sting continued. "I get immediately bored when I see a computer-generated image. I imagine I will feel the same way about AI making music.
"Maybe for electronic dance music, it works. But for songs, you know, expressing emotions, I don't think I will be moved by it."
Sting also revealed that he is currently working on a musical based on his 2013 album The Last Ship, which tells the story of his childhood in a shipbuilding town in northern England.
"I'm very excited about it. It's a very personal project for me," he said.
The post Sting says we must "defend our human capital against AI" appeared first on Guitar.com | All Things Guitar.
Source: www.guitar-bass.net