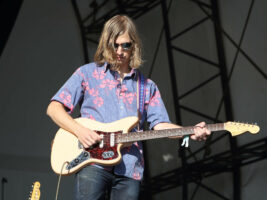 Rob Laakso, guitarist of Kurt Vile and the Violators, dies aged 44
Rob Laakso, longtime guitarist and multi-instrumentalist of rock band Kurt Vile and the Violators, has died at the age of 44 after battling cholangiocarcinoma, a rare and aggressive form of bile duct cancer.
Laakso's wife, Mamie-Claire Cornelius, confirmed his passing in a statement on Instagram: "Thank you for giving me the most beautiful life, the most loving and beautiful children and for believing in me every day. You are the light of my life and the only slightest sliver of peace I have is that you are no longer in pain. We'll be dreaming of you every night until we see you again."
Cornelius also shared an update on the GoFundMe page previously created to support Laakso's cancer treatments, writing, "After praying for a miracle every day since he was diagnosed my prayers recently changed to a peaceful home departure surrounded by love. I realise now every day we had together was a miracle."
"I'm also trying to remember for myself and as an example to carry out to our children how much Rob loved life, he was always busy with a new project to better himself, writing a new song, ready for an adventure, eager to try a new restaurant, go for a hike, take a sauna — so please go live life and try something new for him when you feel an ache creeping in," she added.
Laakso became an official member of Kurt Vile and the Violators in 2011, following the departure of guitarist Adam Granduciel. The musician featured heavily in Vile's subsequent studio albums, including 2013's Wakin on a Pretty Daze, 2015's b'lieve I'm goin down…, 2018's Bottle It In and most recently, 2022's watch my moves.
Prior to his partnership with Vile, Laakso played the guitar in a number of other groups, including shoegaze band Swirlies and the indie rock group Mice Parade.
Last year, the musician kicked off his first-ever solo project, releasing the self-titled EP Raw Bell in September. Speaking to WECB about his solo career, Laakso said that he hoped to create music that "people can respond to and not think too hard about".
"I've always meant to do it, I just finally had the time and I also moved back to the East Coast. It was hard between all my touring and other things to even get songs together or book shows. It wasn't able to actually come together until I was here [in Boston]," he added.
Please support our sweet Doc & his family:https://t.co/DMQhHdq7hC
— Swirlies (@swirlies11) May 5, 2023
The post Rob Laakso, guitarist of Kurt Vile and the Violators, dies aged 44 appeared first on Guitar.com | All Things Guitar.
Source: www.guitar-bass.net