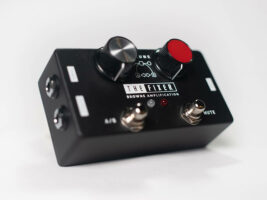 Browne Amplification Fixer review: making switching guitars totally painless
Boost pedals are cool, but problem-solving utility pedals are dull. The Browne Amplification Fixer is both… so are we allowed to get excited about it or not?
READ MORE: The Big Review: Guild Surfliner Deluxe – second time's the charm
The Browne name alone should probably be enough to make that a provisional 'yes'. This is the company behind three acclaimed overdrives – the Protein, Carbon and Atom – plus the T4 fuzz. A clean boost and buffer is never going to be as sexy as those high-class tone machines, but the Fixer might just prove more essential to your rig than any of them.
Designed to sit just ahead your pedalboard in the signal chain, this is first of all about giving your tone a bit of a kick to get it through all of that added circuitry intact. There's also a tuner output and a mute switch for silent guitar swaps, but the really interesting bit is that pair of large knobs at the top – these control two identical boost circuits, which can be set at different levels for instant flipping with the A/B footswitch. That's a nice idea for people who prefer clean boosts to tone-colouring overdrives, and an even nicer idea for anyone using two guitars with unequal output levels.
White on black is the design language of nerdy switching devices, so nobody's going to mistake this for anything fancier than it is, but it feels just as well made as the other Browne pedals we've used.
IN USE
The Fixer doesn't have a bypass option, so you'll probably want to use boost A as your default always-on buffer. Set at noon it sounds reassuringly absent, but it only takes a little twist round to one o'clock to produce an audible full-frequency gain boost – just the thing if you're going through 200 pedals and they're all true bypass (no, we didn't test this).
In a one-guitar setup, channel B works perfectly well as a straightforward solo booster: simply make sure it's cranked up high, tap the switch, barge your lead singer out of the spotlight and away you go. But if you're using a second guitar with much higher or lower output, that's where this concept really starts to make sense. Tinnitus-cursed bandmates will thank you for using the mute switch (as will engineers and audiences); then it's just a question of swapping instruments, switching to the quieter/louder channel and unmuting again.
There's not much to say about the tuner output except that it works, and handily does so even when the main output is muted. And that's really all there is to this pedal, which is slightly dull and slightly cool but thoroughly good at its job. Yes, there are other ways of doing that job – perhaps with an output-muting tuner, a one-knob clean boost and an optional buffer – but Browne's contribution is a highly effective option at a great made-in-USA price.
KEY FEATURES
PRICE £149
DESCRIPTION Dual boost and buffer pedal, made in the USA
CONTROLS Level A, level B, channel footswitch, mute footswitch
FEATURES Tuner output, powered by 9-volt mains supply only (no bypass)
DIMENSIONS 129 x 67 x 57mm
CONTACT browneamps.com
LIKE THIS? TRY THESE…
Xotic RC Booster v2 £159
ThorpyFX Heavy Water £209
Stone Deaf QBoost £139
The post Browne Amplification Fixer review: making switching guitars totally painless appeared first on Guitar.com | All Things Guitar.
Source: www.guitar-bass.net