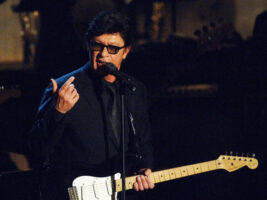 Robbie Robertson, guitarist for The Band and Bob Dylan, dies at 80
Robbie Robertson, lead guitarist and primary songwriter for Canadian rock outfit The Band, has died at 80 after a long illness.
Robertson's management company confirmed his death in a statement: "Robbie was surrounded by his family at the time of his death, including his wife, Janet, his ex-wife, Dominique, her partner Nicholas, and his children Alexandra, Sebastian, Delphine, and Delphine's partner Kenny," wrote the musician's longtime manager Jared Levine.
"In lieu of flowers, the family has asked that donations be made to the Six Nations of the Grand River to support the building of their new cultural center."
Born in Toronto on 5 July 1943, Robertson's affinity with music began at an early age: "I've been playing guitar for so long I can't remember when I started," he told Rolling Stone in 1968. "I guess I got into rock & roll like everybody else."
At 16, Robertson met rockabilly legend Ronnie Hawkins, and became a member of his band, The Hawks. It was here that he met future Band members — drummer Levon Helm, bassist Rick Danko, multi-instrumentalist Richard Manuel and keyboardist Garth Hudson.
After parting ways with Hawkins in 1964, the five musicians were hired by Bob Dylan to be his backing band on tour. The group eventually found success as The Band with their 1968 debut album, Music From Big Pink, which was soon followed up by more Robertson-penned hits such as The Weight, The Night They Drove Old Dixie Down, Up on Cripple Creek and It Makes No Difference.
The Band played their last show as five in 1976, wrapping up with a massive farewell show at the Winterland ballroom in San Francisco. The group would reunite without Robertson for a number of tours and studio releases throughout the 80s and 90s.
Robertson continued to work on side projects with former Band members alongside his solo music, in the decades ahead. The rocker released his self-titled debut in 1987, and has, over the years, collaborated with the likes of Eric Clapton, Steve Winwood, Rage Against the Machine's Tom Morello, Ringo Starr and Neil Diamond.
Robertson was also known for his tight creative relationship with acclaimed director Martin Scorsese, having scored many of Scorsese's films, including Raging Bull, Casino, The Wolf of Wall Street and The Irishman.
Robertson's final solo album, Sinematic, was released in 2019.
Tributes have poured in from around the globe following the news of Robertson's passing.
"May his legacy and musical harmony resonate for generations to come," Folk star Joni Mitchell tweeted, while Bryan Adams thanked the late musician for "the amazing music and the great hangs, especially photographing you in LA not so long ago," adding "We'll keep Anna Lee company for you…"
Scorsese, who directed The Last Waltz, a 1978 documentary about The Band, remembered Robertson as "one of my closest friends, a constant in my life and my work".
"I could always go to him as a confidante. A collaborator. An advisor. I tried to be the same for him," he wrote.
RIP Robbie Robertson. Thanks for the amazing music and the great hangs, especially photographing you in LA not so long ago. We'll keep Anna Lee company for you… pic.twitter.com/0IqVibzVZm
— Bryan Adams (@bryanadams) August 9, 2023
Rest in peace Robbie Robertson, legendary lead guitarist of The Band, fellow Canadian, and cherished collaborator of Joni's. May his legacy and musical harmony resonate for generations to come.
Photo from the Michael Ochs Archives pic.twitter.com/1rdu7tihjS
— Joni Mitchell (@jonimitchell) August 9, 2023
Read more tributes below.
RIP Robbie Robertson. A good friend and a genius. The Band's music shocked the excess out of the Renaissance and were an essential part of the final back-to-the-roots trend of '60s. He was an underrated brilliant guitar player adding greatly to Bob Dylan's best tour & best album.
— Stevie Van Zandt (@StevieVanZandt) August 9, 2023
The music world lost a great one with the passing of Robbie Robertson. Keep making that Beautiful Noise in the sky, Robbie. I'll miss you.
— Neil Diamond (@NeilDiamond) August 9, 2023
So sorry to hear about Robbie Robertson's passing. His music felt timeless when he wrote it and remains timeless. Thoughts and love to his family.
— Rob Reiner (@robreiner) August 9, 2023
Super Sky Point to the great Robbie Robertson, one of the best guitarists to ever roam this planet. On a personal note, the man stuck up for me once when I really needed it and I'll cherish that memory forever. When you get to heaven, play fucking loud. #RIP pic.twitter.com/WzXXTfKkN5
— Super 70s Sports (@Super70sSports) August 9, 2023
One of the greatest renditions of The Weight you will ever see.
Robbie Robertson, Ringo Starr and musicians all over the world for Playing for Change.
You can watch the rest here: https://t.co/Un4IqURMks pic.twitter.com/bkZ5rtxsAZ
— Danny Deraney (@DannyDeraney) August 9, 2023
On a whim last month we played this song because we were in the birthplace of The Band, Norfolk County. The transcendent songwriting of Robbie Robertson is a timeless gift. The best songs remind us of the people in our life that we love the most. Thanks for that Robbie. RIP pic.twitter.com/kW5KBoggG9
— ARKELLS (@arkellsmusic) August 9, 2023
The post Robbie Robertson, guitarist for The Band and Bob Dylan, dies at 80 appeared first on Guitar.com | All Things Guitar.
Source: www.guitar-bass.net