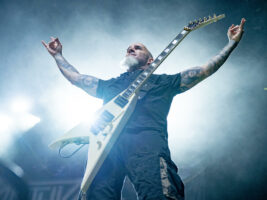 "Whatever it takes to get a show on": Anthrax's Scott Ian on the use of backing tracks at live gigs
Anthrax guitarist Scott Ian is the latest musician to weigh in on whether or not it's okay for bands to rely on backing tracks at live shows.
READ MORE: Wolfgang Van Halen on backing tracks: "If you need a laptop with 60 stems running to play your show, that's not a show"
Sharing his thoughts on the controversial practice in a recent interview with Syncin' Stanley, Ian says [via Blabbermouth]: "Obviously, I'm aware that this is something that's going on these days now that the technology has made it possible to do these kind of things. And my opinion is I really don't care."
"I don't care what artists do or what bands do to make their show happen. My opinion is that it's hard out there for bands and artists these days – it's never been tougher. And whatever it takes to get a show on, I think. It's all part of the show. This is just new technology that people aren't accepting yet. That's just my opinion."
"Really, who cares? You know what I mean?" Scott continues. "If it's something you don't like, then you have the choice. You have the choice as a consumer to spend your money or not spend your money. And, really, that's what it comes down to. So why there's a big deal about it, honestly, I don't care."
Elsewhere in the chat, the guitarist also discussed the rise of AI-generated music, saying "I did hear an AI version of Bon Scott singing on [AC/DC's] You Shook Me All Night Long yesterday online, and it gave me the chills — in a good way. So, whatever. I love that. I'm sure if there was other AI stuff I heard, I'd probably maybe have a different opinion on it. It all just comes down to what it is and how it moves you."
By contrast, Slipknot frontman Corey Taylor has recently denounced the use of backing tracks in live shows, saying there's "no way" he could rely on them because "there's no heart to it".
"I've had songs where I'll start a song and then I'll just blank… [And then] I'll laugh and I restart the song," he admits [per Blabbermouth]. "I'm like, 'Fuck.' At that point, that's all you can do. And it lets people know that they're in a moment, man. So many fucking people either play to track or they're not playing it all, and it's just, like, it's just a fucking mechanical motion for them, and there's no vibe."
The post "Whatever it takes to get a show on": Anthrax's Scott Ian on the use of backing tracks at live gigs appeared first on Guitar.com | All Things Guitar.
Source: www.guitar-bass.net