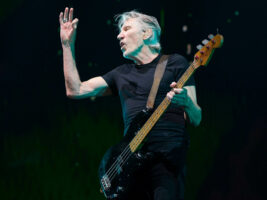 Roger Waters threatens to sue over "unjustified" Germany concert ban
Pink Floyd co-founder Roger Waters has threatened to take legal action over the recent cancellations of his Germany concerts, per reports online.
READ MORE: David Lee Roth claims Eddie Van Halen was an Eric Clapton acolyte: "He followed him like a disciple"
According to Anadolu Agency, a statement released Tuesday by Waters' management says that the rocker has "instructed his lawyers to immediately take all necessary steps to reverse this unjustified decision and ensure that his fundamental human right to freedom of expression is protected."
Describing the cancellations as "unconstitutional" and "unjustified", the statement claims that those decisions were made based "on the false accusation that Roger Waters is anti-Semitic, which he is not."
They add that "this blatant attempt to silence him could have serious and far-reaching consequences for artists and activists around the world if left unchallenged."
Last month, the city of Frankfurt announced that they would cancel a Roger Waters concert scheduled for 28 May at the publicly owned Festhalle venue.
Calling the singer "one of the world's best-known antisemites", the city's municipal government cited Waters' support for the Boycott, Divestment and Sanctions (BDS) movement, antisemitic imagery at his shows and past interviews with media affiliated with the Hamas terror group as the reasons for their decision.
Meanwhile, efforts are also being made in Munich to cancel the artist's upcoming show (21 May) at the Olympiahalle.
In other news, Waters recently revealed that he is currently re-recording Pink Floyd's seminal Dark Side Of The Moon album.
"We are now in the process of finishing the final mix," the rocker stated, adding that the re-work is "not a replacement for the original which, obviously, is irreplaceable. But it is a way for the seventy nine year old man to look back across the intervening fifty years into the eyes of the twenty nine year old and say, to quote a poem of mine about my Father, "We did our best, we kept his trust, our Dad would have been proud of us"."
Check out the first snippet from the upcoming release below.
The post Roger Waters threatens to sue over "unjustified" Germany concert ban appeared first on Guitar.com | All Things Guitar.
Source: www.guitar-bass.net