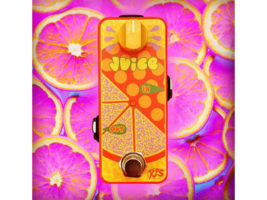 RPS Effects adds the Vitamin C to its line-up
This tiny pedal packs a clean volume boost.
Boutique pedal makers RPS Effects has launched the Vitamin C, a lozenge of a boost pedal with more under its surface than its slim size lets on.
This citrus-themed pedal is, for the most part, designed to give you up to 27dB of "juicy" gain. There's just one knob for you to tinker with, which manages the amount of effect dialled in. At lower to mid gains, the pedal gives your playing a touch of zest. Keep turning that knob clockwise, however, and it can push your tube amp into sweet overdrive.
The Vitamin C also features a high- and low-output impedance, which allows it – when dialled to the lowest gain setting – to double up as a simple buffer. This prevents the "dreaded 'tone suck' that can arise from long signal chains", says RPS Effects.
Whether you're looking to give your solo a bit of kick, overdrive an amp or minimise tone loss, the Vitamin C might be the handy little supplement you need.
Check out the pedal in action here:
Retails for $60. More information at rpseffects.com.
The post RPS Effects adds the Vitamin C to its line-up appeared first on The Guitar Magazine.
Source: www.guitar-bass.net