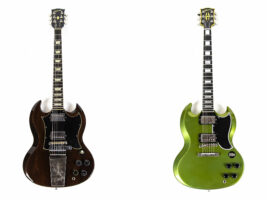 Russian Circles open their Reverb shop with plenty of vintage Gibsons up for grabs
Post-metal band Russian Circles have re-opened their Reverb shop after six and a half years, selling a range of vintage and custom gear.
READ MORE: "There's something to be said for having something sound gnarly": Russian Circles' Mike Sullivan on old-school death metal, Kurt Ballou's pedal collection and his enormous Hiwatt rig
The store is live now, and most prominently features guitarist Mike Sullivan's beloved Gibson 1971 SG Standard in a Walnut finish, which was used to write a plethora of the band's songs since it came into his ownership in 2010.
Sullivan said of the guitar, "It's one of my most played guitars. Dozens of songs have been written on it. I rarely took it on tour due to it being a vintage guitar, though it was used on a six-week European tour at one point."
Other gear includes a black Gibson B.B. King Lucille which was used during the recording of Chelsea Wolfe's album Abyss. "The Lucille guitar is an incredibly versatile guitar," said Sullivan in a statement. "I'm shocked how well this handles distorted tones at high volume."
There's also a Gibson SG Custom in metallic green used to write Russian Circles' 2019 record Blood Year, which was also played at several shows. You can get your hands on a Fender Twin Reverb '68 reissue that was used on the US Blood Year tour and a custom-made Emperor 1×15 bass cab made in 2007 that Brian Cook used for his bass and synth up until 2019, according to Sullivan.
A variety of pedals are up for sale, including three Akai Headrush pedals that have been with the band since their inception. They are described as "integral" to the band's live performances from 2004 to 2020.
View the shop at Reverb.com.
The post Russian Circles open their Reverb shop with plenty of vintage Gibsons up for grabs appeared first on Guitar.com | All Things Guitar.
Source: www.guitar-bass.net